Best Face Editing AI Tools for Photo Editors for 2024
AI picture editing uses to let you improve the look of your images by speeding up the editing process. They can do what would take hours in seconds with more complex tools such as Photoshop.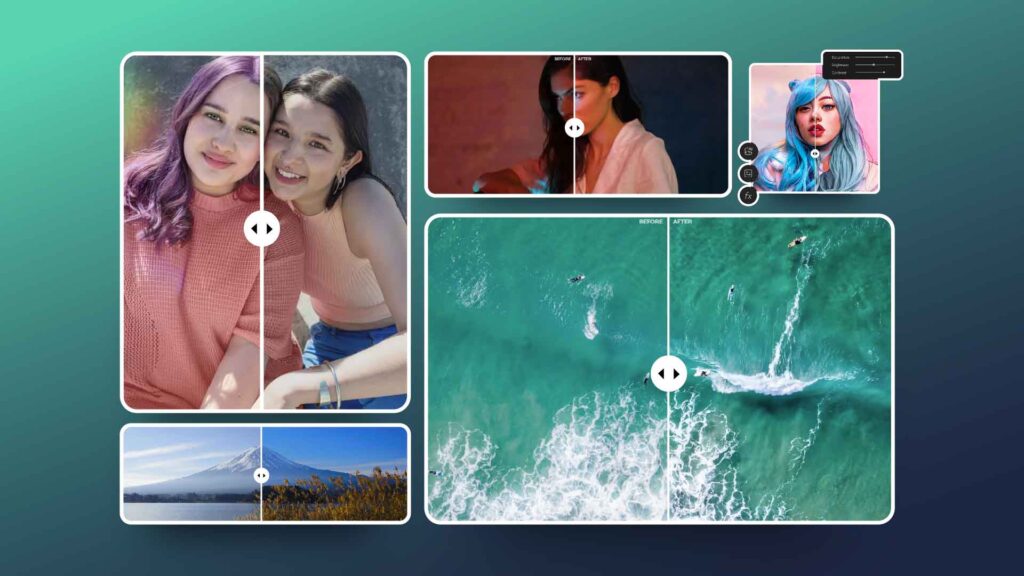 However, with so many AI picture editors and AI photo enhancers available, how can you determine which one is right for you? We've compiled a list of the top AI tool alternatives so you can acquire the correct AI photo editor.
What is an AI Photo Editor?
A program or software that uses artificial intelligence (AI) technology to automate and improve many parts of the picture editing process is referred to as an AI photo editor.
Using complex algorithms and artificial intelligence techniques, picture editors powered by AI analyze and assess the information within an image. This enables them to perform a diverse range of automated editing operations.
AI is an abbreviation for artificial intelligence, which aims to imitate human intellect; it learns Big Data patterns, makes independent decisions, and forecasts input.
How do AI Photo Editors Work?
AI-powered photo editors can determine the topic in your photograph, improve it, remove and replace the backdrop, apply corrective effects as needed, color correct, and much more.
Everything is done with a single button click! AI editing software eliminates the need for manual picture editing, saving time, money, and effort. The finest tools for fixing errors and deleting undesired aspects from a photograph are automated editors.
What makes the best AI photo editor?
An AI picture editor differs from a regular photo editor because it incorporates artificial intelligence technology into its capabilities. Here are some major characteristics that distinguish an AI picture editor:
Automatic enhancement:
AI photo editors use advanced algorithms to evaluate photographs and automatically improve features such as colors, exposure, contrast, and sharpness. AI algorithms may automatically adjust these parameters depending on the image's content and features, resulting in increased visual quality with little human interaction.
Intelligent Filters and Effects:
AI photo editors use AI algorithms to automatically apply filters and effects that enhance or modify photographs based on their content, achieving artistic improvements.
 Advanced Retouching Tools:
AI photo editors use advanced AI algorithms for precise and natural retouching, including tasks like blemish removal, skin smoothing, and facial feature sculpting.
Recognition and Editing of Content:
AI picture editors recognize and interpret image content, allowing for advanced editing features like object removal, cut-outs, and precise adjustments.
Workflow and Accessibility:
AI picture editors are meant to provide a simple and easy-to-use editing experience. They are frequently offered as web-based or mobile programs that let users access and edit their images from various devices.
Furthermore, AI photo editors may include cloud-based storage, collaboration tools, and connection with social media platforms, allowing users to share and collaborate on their modified photographs effortlessly.
AI Face Editing Tools for Photo Editors
Here is the list of the best AI face editing tools we have gathered; we used them and listed them according to their provided features.
Luminar Neo
YouCam Makeup
FaceApp
Fotor
Unboring by Reface.ai
Facetune2
PicsArt
Pixlr
VSCO
Snapseed
Befuncky
Luminar Neo
Skylum created Luminar Neo, an AI picture editing program. It includes several AI-powered modification tools and filters to assist you in making quick and easy adjustments.
One of Luminar Neo's most notable capabilities is its ability to automatically assess and correct picture defects such as noise, haze, and lens distortion. Luminar Neo, in addition to its automated correction features, provides a variety of creative filters and effects that may instantly change your photographs.
Features:
| | |
| --- | --- |
| Expand your view with Panorama Stitching | Draw a street story with more lights |
| Fixes misfocus and motion blur | Keep Everything in Focus |
| Universal Background Removal with AI | Image Upscaling |
| Noise Reduction | Sharpening Images |
| Relight 2D photos in 3D space | Superior bracket merging |
Sky AI detects the sky in your images and replaces it with a new one in a very realistic manner.
Composition AI: Automatically analyze and change the photo's composition, crop, and perspective.
Portrait AI: Improves face features and skin for high-quality portraits.
Enhance AI: Optimizes exposure, contrast, and color balance automatically to bring out the actual colors in your photographs.
Background Removal AI: Artificial intelligence automatically and accurately recognizes and eliminates your photos' backgrounds.
Pros:
AI is an appropriate part of the entire app.
As it was created for photographers, you have much control over how powerful any effects are applied.
Cons:
Expensive for a single photo-focused software.
YouCam Makeup
YouCam Makeup is an AI-powered picture face editing tool that allows you to modify the form of your face in selfies organically and quickly.
The software has a variety of face shape-altering options, and you can utilize its sliding bars to make minor changes or complete makeovers. Users can quickly enhance their favorite natural features and find the perfect face shape with smooth changes due to its advanced AI simulation technology.
Furthermore, the YouCam Makeup app has many additional essential selfie editing capabilities, such as photo skin retouching, backdrop switching, and eliminating undesirable items, and photo effects, allowing you to complete your editing process in a single app.
Features:
| | | |
| --- | --- | --- |
| Face Slimming | Edit Nose Shape | Plump Cheeks |
| Left and Right Face | Sharpen Jawline | Plump Lips |
| Edit Eyes Shape | Edit Chin | Edit Forehead |
| Edit Lip Shape | Edit Brow Shape | – |
Pros:
Change Your Face Shape Naturally and Quickly
Several Face-Shaping Features
Slide bars are used to adjust the intensity.
There are several tools for editing selfies.
Cons:
To begin with, there are far too many face-modifying tools.
FaceApp
In recent years, the Face app has become one of the most popular AI face picture editing applications. The Face app is well-known for employing powerful AI technology to generate astonishing selfie editing effects, such as celebrity-face swapping, face aging tool, and face swapping (The face swapping feature in FaceApp was accessible until May 2023. Discover the reason behind its removal.).
Users may also use the Impression tool to try different beauty effects on their selfies. The Face app engine will apply aesthetic effects to the photo and natural face reshapes, such as lip plumping and face slimming for a more attractive overall edit.
Features:
| | |
| --- | --- |
| Face reshaping | Skin editing |
| Tone and contouring | Add makeup and glitter for enhanced glow |
Pros:
Simple design and user-friendly tools
Outstanding automated adjustments
A diverse spectrum of facial
Cons:
Not the cheapest app on the market.
Fotor
Fotor is one of the most popular picture editors, with millions of users. It has a set of powerful AI-powered editing capabilities that make the editing process easier.
You can edit images, fix lighting problems, retouch portraits, remove unwanted objects, change photo backgrounds, and accomplish much more with a single click.
No prior photo editing skills are necessary because Fotor's AI photo editor empowers you to achieve professional-quality outcomes effortlessly.
If you want an AI picture editor that is easy to use and can assist you with complicated edits, Fotor is the one for you.
AI Editing Tools on Fotor:
Portrait Retoucher ai: Automatically retouches portrait photos, improving skin tone, removing blemishes and wrinkles, and enhancing facial features.
Image Upscaler AI: Increase image resolution while perfectly preserving image quality.
AI Background Generator: Ask AI to generate custom backgrounds for all purposes.
Turn Picture to Painting: A variety of AI painting filters to stylize your photos with a single click.
Features:
| | |
| --- | --- |
| Online photo editing | Photo retouch collage maker |
| Design Source | Photo retouching |
| Photo grid collage making | – |
Pros:
User-friendly interface.
Wide range of editing options.
Preset filters and effects.
Batch processing.
Collage and design features.
Cons:
Limited advanced editing capabilities.
Watermark on the free version.
Online-only editing.
Limited customization options.
Unboring by Reface.ai
Unboring is an online AI tool that allows you to swap faces, animate photos, and restyle videos. It is a powerful tool that can be used for entertainment, creativity, and even marketing.
Unboring by Reface.ai uses new AI technology to create impressive face swaps, animations, and style changes. The outcomes are so realistic that they closely resemble genuine photos and videos.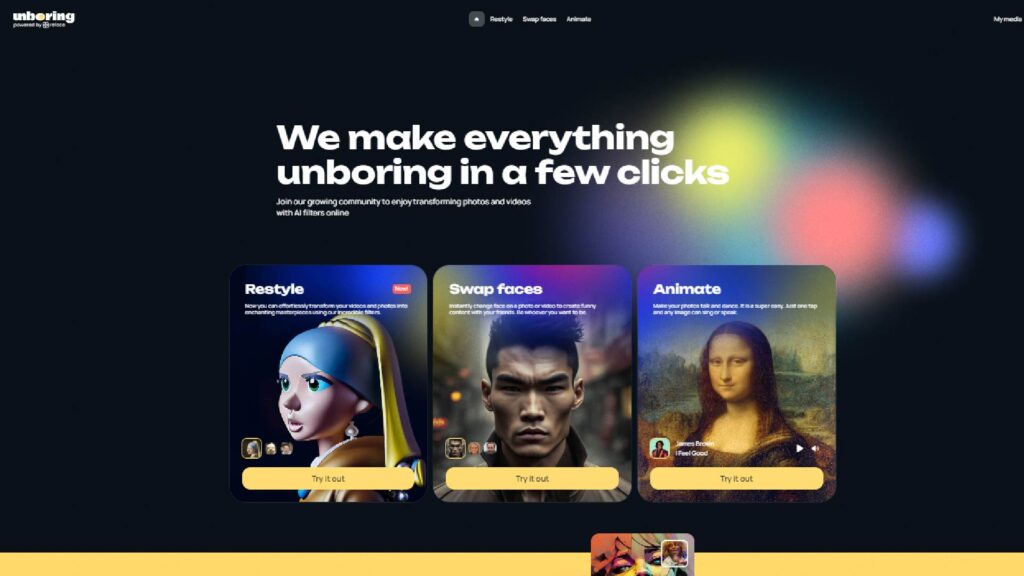 Using Unboring is incredibly straightforward. Just upload a photo or video, pick the face you want to swap, and click a button. Within seconds, you'll have the desired results.
It provides various features like face swapping, animation, restyling, and others. You can have fun making funny memes, crafting personalized videos, or giving your photo an artistic touch as if they were hand-drawn by an artist.
| Free Starter | Advanced – $12.99 | Pro – $47.99 |
| --- | --- | --- |
| 5 Tokens per weak | 100 Tokens per Month | 500 Tokens per Month |
| Free Starter | 100 Face swaps | 500 Face swaps |
| 5 Animates | 100 Animates | 500 Animates |
| 2 seconds of video Restyles | 50 seconds of video Restyles | 250 seconds of video Restyles |
Facetune2
Facetune2, powered by Lightricks Ltd., is one of the greatest face-retouching programs. This program is available for Android and iOS smartphones and includes practically everything you can want in a face picture editor.
Facetune2 allows users to smooth their skin, immediately removing imperfections, pores, and wrinkles. You may change the amount of shine on your face.
This tool also functions as a face backdrop editor and may be used to replace backgrounds in your photos. You may alter your facial characteristics using its artistic tools, filters, and brushes.
Features:
| | |
| --- | --- |
| Smooth skin | Swipe over blemishes and wrinkles |
| Fix redeye | Add a glow |
| Conceal dark circles | Matte, shiny skin |
| Refine facial features in terms of both size and proportion | – |
Pros:
Granular control over practically all face traits is available.
Simple to use
Ability to sample out premium modules before purchasing them
Many helpful features are available in the free version.
Cons:
Photos with the live preview function typically seemed softer than those after altering existing photographs.
The subscription arrangement may put some people off.
PicsArt
PicsArt is a strong picture editing program with several face-retouching filters and various editing tools and effects.
You may improve your facial features, smooth your skin, and apply creative effects to your images with PicsArt's AI-powered tools. The program also includes tools like backdrop removal, collage creator, and text overlays, allowing you to express yourself.
One of the most remarkable aspects of PicsArt is its availability on mobile devices and the web. This exceptional feature allows users to access the platform seamlessly across multiple platforms, enhancing their creative experience.
It also provides face shape-changing tools for adjusting the forehead, chin length, and head size, but you must be a premium user. PicsArt provides a complete range of tools to make your face seem gorgeous in your photographs, whether you are a novice or an accomplished photo editor.
Features:
| | |
| --- | --- |
| Make professional-level collages | Quickly remove and swap background |
| Design and add stickers | Choose from hundreds of stylized photo filters |
| AI Image Generator | Create AI avatars and more |
Pros:
The app is well-designed and user-friendly.
Select either manual or automatic tools.
Has a broad tool package.
Cons:
It is not user-friendly for total new users because no fundamental editing lesson is given.
Pixlr
Pixlr specializes in giving users just enough variety. You will never be overwhelmed by the number of alternatives available to you. You may utilize simple brushes and preset effects, overlays, and style filters to achieve black-and-white, film, or sepia tones.
While Pixlr is free to download, the program's free version contains advertisements and restricts access to editing features.
Casual users may love the app's simplicity, but anyone looking for complete editing capabilities and complex effects may find Pixlr lacking in more than one area. However, Pixlr's Premium membership grants access to more editing tools.
Features:
| | |
| --- | --- |
| Skin retouching | Auto enhance |
| Eye enhancement | Face reshaping |
| Makeup application | Filters and effects |
| AI selection tools | – |
Pros:
Ai powered enhancement
User-friendly interface
Versatile editing features
Cons:
Limited advanced editing options
Online-only availability
Limited customization options
VSCO
Although VSCO is best known as a picture editing program, it also has several attractive filters that may be used to enhance your face characteristics. VSCO's filters are intended to provide an aesthetic and creative touch to your images.
The program lets you alter the intensity of the filters, allowing you the freedom to create the appearance you want. They provide basic editing features, including exposure, contrast, saturation changes, and filters.
VSCO is a popular app among photographers and Instagram users because of its simple UI and high-quality effects. You can create your own looks and custom filters for easy plug-and-play alternatives, with a large selection of filters to meet any style and even automated suggestions.
Preset features make it even easier to modify every image, with standard settings that you can place on any image and have it ready for sharing in seconds.
Features:
| | |
| --- | --- |
| Presets | Dodge and Bun |
| Skin Tone | Borders |
| Highlight and Fade | Makes Adjustments |
| Control the Light Exposure | Adjust the White Balance |
Pros:
Through collaborative galleries, VSCO Spaces provides a secure area for creators to discuss ideas, exchange inspiration, and interact.
Tools that are simple and easy to use
Faces may be edited in minute detail.
Cons:
There is no option for a dark mode. You also couldn't access the web editing.
Snapseed
Snapseed is one of the most popular and impressive picture editors and a free face editing program. Tools, filters, presets, and other options help make your image stand out. Snapseed can open JPEG and RAW files and works on Android and iOS smartphones.
Snapseed allows users to add a subtle glow to their photographs, change the contrast, and apply numerous effects, among other things.
Use the Face Enhance feature to draw focus to your eyes, achieve smoother skin, and adjust the lighting specifically for your face in the captured image.
Furthermore, please take advantage of its extensive range of abilities to incorporate a Bokeh effect into your photos or correct the positioning of 3D models in your portraits.
Features:
| | |
| --- | --- |
| Selective Filter Brush | Snapseed has this feature to add more depth to the captured picture by applying HDR |
| Open RAW and Export in JPG | Expand the Image |
| Glamor Glow | Change the Perspective |
| Use Selective Brush | Heal the Imperfections |
Pros:
User-friendly interface
Built-in RAW editor
Superb photo editing tools
Non-destructive editing
Adjustable filters
Cons:
Not for professional retouches
Befuncky
BeFunky is a well-known AI picture editor that provides both a free and a subscription tier (BeFunky Plus). This is an excellent option if you only need to edit photographs and don't want to save them online.
The free version allows you to use various digital effects, including picture editing, creative effects, and photo collage creation. The free version allows you to resize photographs, trim them, alter the exposure, auto-enhance images, and apply effects like vignettes or grayscale.
BeFunky also provides mobile apps for the iOS and Android operating systems and a web app. More significantly, there is no need to establish an account to use the free version.
Features:
| | |
| --- | --- |
| Photo effects | Touch up |
| Background remover | Photo to art |
| Photo enhancer | |
Pros:
AI-powered editing tools that are basic and simple to use
The design is straightforward, and locating the tools you want is simple.
Cons:
The exported photo cannot be resized.
The editing photo will return to the home page when it becomes stuck.
Conclusion:
Finally, photo editors can use a variety of AI-powered face-altering tools. Machine learning algorithms are used in these technologies to enhance and change face traits in images.
These techniques include skin retouching, blemish removal, face contouring, and cosmetic effects, among other things. Individual tastes, skills, and the intended editing platform all influence tool selection.
Find out more AI Tools