Youtube Channels to Learn Graphic Design From Basic To Pro
YouTube is an excellent resource for studying graphic design, whether you are a student or a company owner looking to save money on education. I've compiled a list of 20 fantastic YouTube channels that cover everything from branding, logo design, and typography to web design, 3D printing, 2D animation, and video editing.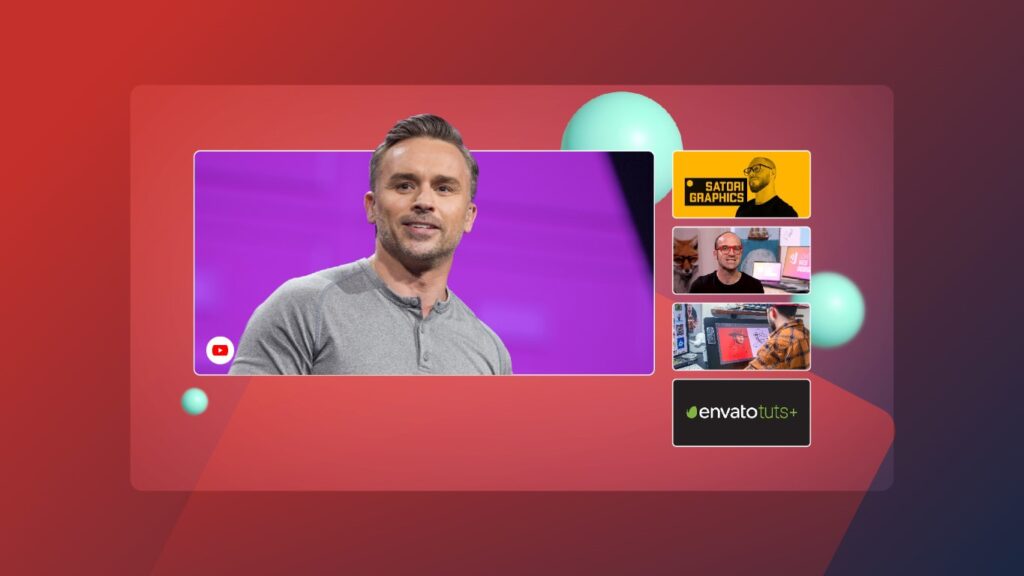 Best YouTube channels to learn graphic designing
The following are the best YouTube channels for understanding and learning various areas of graphic design for free. The order of this list does not indicate any channel prioritization, but rather provides the flexibility to explore and visit all channels.
Feel free to navigate and select the channel that suits your needs and preferences.
YesI'maDesigner
SatoriGraphics
BringYourOwnLaptop
Adobe Creative Cloud
Flux
Envato Tuts+
VectorSlate
SpoonGraphics
SketchTogether
Gigantic
WillPaterson
TheFutur
DanSky
Tutvid
CharliMarieTV
BradColbow
ArnauRos
HelloI'mAlexa
MTMograph
EveryTuesday
Yes I'm a Designer
Martin Perhiniak is a qualified Adobe Design Master and Instructor. Yes, I'm a Designer will educate you design concepts, technical knowledge, compositional approaches, and best design practices.
Through his online classes, Perhiniak not only imparts technical knowledge but also comprehensive education on design concepts, compositional methodologies, and a range of best practices.
He shares expertise gained from his engagement in these undertakings, building on his experience as a designer and retoucher on well-known projects such as Pixar's Cars and Toy Story, the BBC's Doctor Who, and Mattel's Team Hot Wheels.
SatoriGraphics
Satori Graphics has been providing high-quality courses and free PSDs since 2009. Tom Cargill created various courses ranging from easy website design to being a digital artist. If you want to learn how to use Adobe Photoshop or Adobe Illustrator, this is the channel for you.
Making the most of your important knowledge here might help you develop your graphic design abilities. Whether you're a novice or a seasoned graphic designer, you'll find something beneficial here.
BringYourOwnLaptop
Daniel Walter Scott, a teacher and Adobe Certified trainer, hosts Bring Your Own Laptop and provides viewers with high-quality instructional lessons for applications such as Adobe Photoshop, Adobe InDesign, Adobe XD, Adobe Illustrator, and others.
This channel is ideal for creatives who are experts in their field and want to take their client work to the next level. Some of the best playlists are "Dreamweaver templates," "UX design course," and "Adobe XD."
Adobe Creative Cloud
Abode is amongst another must follow Youtube channel for designers. This channel has many great playlists for tutorials and inspirations. You can also learn about how to get started with Creative Cloud.
You will access plenty of information that is especially useful if you are starting new in creating unique graphic design products. Playlists such as Adobe Creative Residency, the future is yours, and Adobe Live are particularly notable.
Flux
Flux is Ran Segall's personal vlog. He is a designer and entrepreneur whose YouTube channel is focused to assisting designers in becoming successful creative professionals.
Ran's channel is chock-full of helpful, educational information for designers of all skill levels, ranging from web design and brand strategy to specialized design case studies.
EnvatoTuts+
Envato Tuts+ is one of the must-follow YouTube channels for designers looking for a variety of tutorials and video courses. You will learn how to use programs like PowerPoint, Sketch, Adobe Photoshop, Adobe XD, and Illustrator to their full potential. Learn how to make eye-catching pictures as well as CSS.
Even if you utilize a logo creator, you should master the fundamentals of graphic design first. Once you've mastered the fundamentals, you'll know exactly what to do while working with design software.
VectorSlate
Vector Slate tutorials are ideal for starting freelancers and creatives who want to master the fundamentals of graphic design. You may find playlists for novices such as "Illustrations," "Useful stuff," and "Text Effect & Typography." You may also access logo design, illustration lessons for beginners, and Photoshop tutorials.
SpoonGraphics
Chris Spooner, the developer of Spoon Graphics, provides several educational video courses to help you enhance your Adobe Creative Suite skills. He also offers a website with graphic design tools and how-to instructions to help you with your daily design tasks.
So, in addition to this YouTube channel, you can also visit their website for an array of graphic design tutorials, free design materials, and art & design inspiration.
SketchTogether
Sketch Together is an entertaining and informative YouTube series for aspiring graphic artists. Its inventor, Pablo Stanley, is a skilled UI/UX designer from Buffalo, NY, and he creates short, easy-to-follow films every day.
Since its inception in July 2014, this channel has amassed a large following of over 106K viewers because to its informative lessons and amusing remarks about the design profession.
Gigantic
Gigantic, whose actual name is Marco, is a Montenegrin graphic artist who produces flat character designs in Adobe Illustrator. His videos are mostly about specific parts of character design, such as sketching superheroes or dragons.
One thing you'll notice about his films is that he frequently utilizes the word "easy" in the titles. He's not underselling himself; he's making his job appear simple to the audience.
Click on any of them to see him step by step lead you through making a certain sort of character or going over an element of designing characters in Adobe Illustrator. He is an Adobe Illustrator instructing acquire who uses little narration and relaxing music.
WillPaterson
Will Paterson's YouTube design channel is a great place to learn about what's wrong with renowned logos like the Google and Starbucks logos.
He is a graphic designer who produces product evaluations and offers helpful logo design suggestions to help you improve your own logo design abilities. He also evaluates the logos of his subscribers, providing a clear "why" with each evaluation. Will Paterson expert in Logo critiques, logo design tips and product reviews.
TheFutur
The Futur, a design and creative entrepreneurship channel managed by Chris Do and his team of specialists, offers plenty of helpful information for designers and creatives looking to improve their abilities and companies.
The channel provides in-depth instruction on a variety of design approaches and software tools. These tutorials allow viewers to hone their design skills and uncover new creative ideas by covering both fundamental design concepts and advanced approaches.
DanSky
Dan White, often known as Dansky on YouTube, is a professional designer who quit the realm of commercial design to devote himself full-time to providing YouTube courses.
Dansky's courses encompass using specialized tools to produce unique photographs as well as editing existing images in Photoshop, such as his video on "alienizing" portraits and his video on eliminating and softening highlights. Dansky's emphasis is on teaching the spectator rather than displaying his own abilities.
Tutvid
Tutvid is widely regarded as one of the greatest YouTube channels for graphic design instruction. Tutvid delivers an amazing learning experience with its huge teaching collection, beginner-friendly approach, and high-quality production.
The channel, hosted by Nathaniel Dodson, offers a wide range of topics, including Photoshop, Illustrator, web design, typography, and more. Nathaniel's straightforward and entertaining teaching approach, as well as extensive explanations and methodologies, make graphic design principles simple for novices to learn and use.
Tutvid's active and friendly community also encourages involvement, allowing students to ask questions and get feedback. Tutvid provides a plethora of great materials to help you learn and grow in the field of graphic design, whether you're a beginner or trying to improve your design abilities.
CharliMarieTV
Charli is a digital and graphic designer based in London that publishes design films on tools, projects, concepts, and vlogs every week.
Her channel has playlists for almost any topic you can think of! Her channel is ideal for all levels of designers, whether you're just starting out, establishing your portfolio, or want to learn about color palette management.
BradColbow
Brad Colbow is a Canadian designer and artist with over 700,000 YouTube subscribers. He has made multiple courses for Adobe Illustrator, and his artistic style is unique, which is why he is so famous.
He offers a lot of amazing stuff, such as how to draw animals and humans, how to utilize Illustrator's pen tool, and how to make a logo. The channel is really nicely structured and simple to explore.
ArnauRos
Arnau Ros has succeeded in becoming one of the famous YouTube channels in little about a year. Arnau is a very skilled independent product designer, to put it briefly.
One of the most well-liked platforms for designers to solve problems, Figma, has been the subject of several of his instructional films. That's not all, either. Arnau has produced a number of films that will assist you in starting over as a new designer in the realm of freelancing.
HelloI'mAlexa
Alexa is a Product Designer who started her channel to assist people understand more about what a Product Designer works in the IT business. Her videos are for anyone who wants to become a Product Designer, is already a Product Designer, or works with a Product Designer.
MTMograph
Mt. Mograph has been one of the most popular graphic design YouTube channels for over three years. The channel is particularly popular with creatives looking to learn more about 3D animation, geometric motion, and the greatest After Effects lessons.
EveryTuesday
Teela Cunningham, the program's host, hosts at here's nothing better than Every Tuesday for Procreate tutorials. There are playlists for beginners, intermediates, and professionals on the channel.
Teela's channel has everything you need to perfect Procreate, from hand writing projects to watercolor flowers to digital watercolor.
Conclusion:
To summarize, YouTube is a wonderful medium for studying graphic design, with a diverse range of channels covering many topics of design.
Whether you're a newbie or a seasoned designer, these channels may give essential knowledge, lessons, and inspiration to help you develop your abilities and remain current with industry trends.
Remember to experiment with different approaches and practice on a regular basis to build your own design style.