10+ AI tools for Graphic Designers that will change the way you design
What is an AI Graphic Design Tool?
Artificial intelligence (AI) models human intelligence processes in computers and computer-controlled robots. This enables computer systems to undertake arduous jobs, allowing people to concentrate on more vital matters.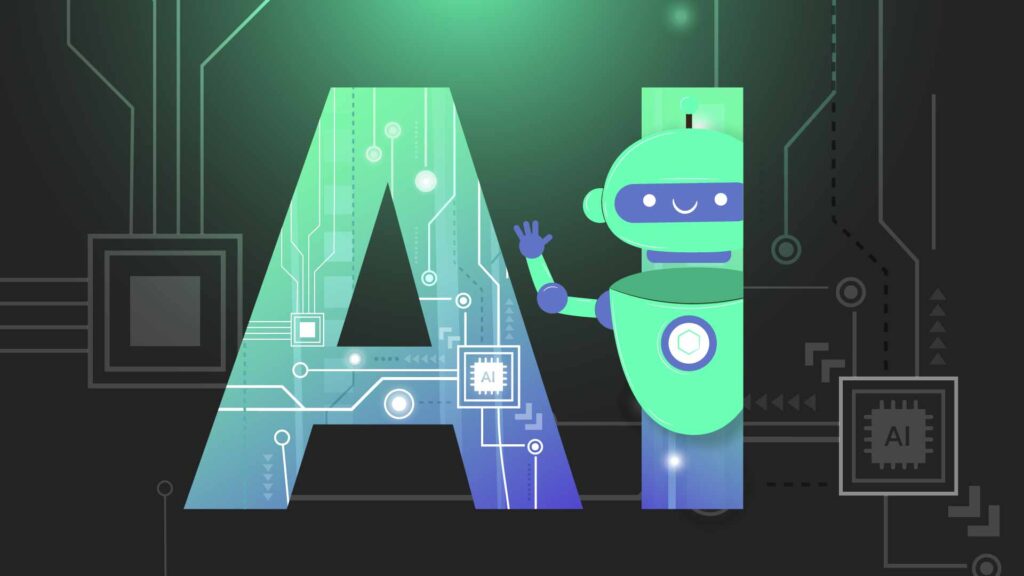 As a result, the need for AI integrations in the workplace has grown over time. In fact, researchers project that the global AI software industry will be worth $791.5 billion by 2025.
Similarly, AI is quickly becoming a component of the design business. AI in graphic design aids in the optimization of work processes, the enhancement of creative materials, and the analysis of client preferences.
AI graphic design tools are taught to identify the visual element you require and deliver it in a single click. Marketers benefit from this since they don't require a design background to generate graphics that increase brand engagement.
How to generate ideas with AI?
Coming up with new and distinctive concepts is one of the most difficult problems for graphic designers. AI may assist you in swiftly and simply generating ideas and inspiration.
AI-powered technologies can analyze massive quantities of data and produce personalized images and design concepts based on your preferences and requirements.
Top AI Graphic Design Tools
Adobe Sensei is a built-in Adobe product that includes content-aware fill, font recognition, automatic color matching, and many other capabilities. While there isn't a single function you can locate and utilize, its interaction with Adobe products boosts your overall graphic design workflow, regardless of the application you're using.
Adobe Sensei makes pictures discoverable and allows you to produce high-quality visuals that change to screen size and resolution automatically.
Aside from improving work procedures, Adobe Sensei also assists you in making better marketing design selections. Its performance forecasting tool forecasts future performance and assists you in optimizing your marketing strategy.
Adobe Sensei's standout features include:
AI-assisted task automation.
A diverse set of features that foster creativity.
Integration with Adobe's design tools is seamless.
Pricing per month
Prices are available upon request from the vendor.
Designs.ai is an online design platform that makes design accessible to everyone. It claims to help you develop your marketing portfolio in just two minutes, even if you have no design experience.
Furthermore, its intelligent editor and wizard tool let you save time brainstorming design ideas for your marketing material.
You may use Designs.ai to produce logos, graphics, movies, mockups, and speeches. There are over 20,000 layouts and 10,000 icons to select from.
AI is also used by the platform to produce thousands of design variants and millions of design assets. Simply enter your brand information and choices to generate a logo and design template.
Features:
Assistive devices
Package for brand identity
Color matching software
Font mashup
Scalable Vector Illustrations
Unlimited downloads for the team
Pricing
Basic: $29/ per month
Pro: $69/ per month
Unboring by Reface.ai
Unboring is an online AI tool that allows you to swap faces, animate photos, and restyle videos. It is a powerful tool that can be used for entertainment, creativity, and even marketing.
Unboring by Reface.ai uses new AI technology to create impressive face swaps, animations, and style changes. The outcomes are so realistic that they closely resemble genuine photos and videos.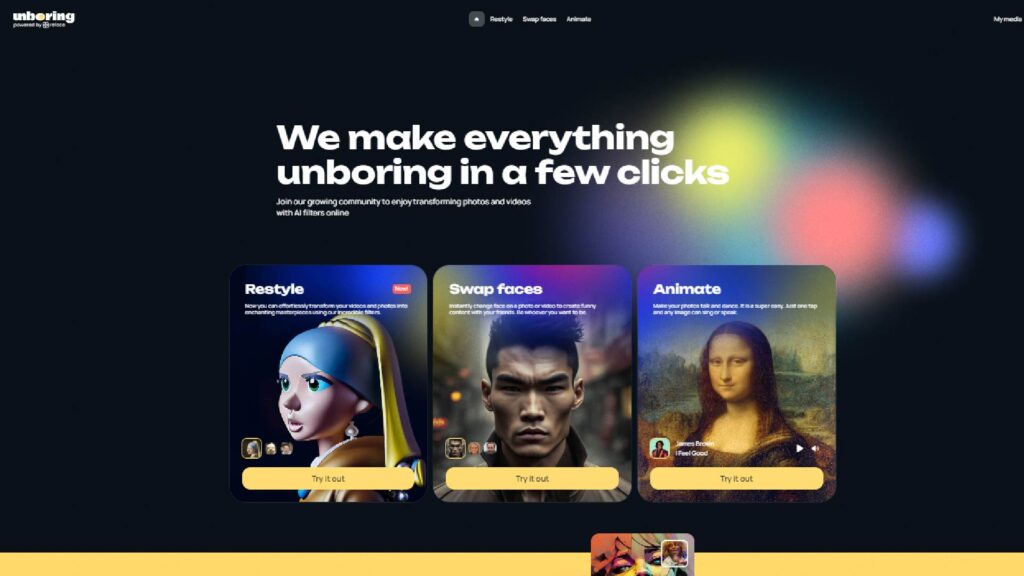 Using Unboring is incredibly straightforward. Just upload a photo or video, pick the face you want to swap, and click a button. Within seconds, you'll have the desired results.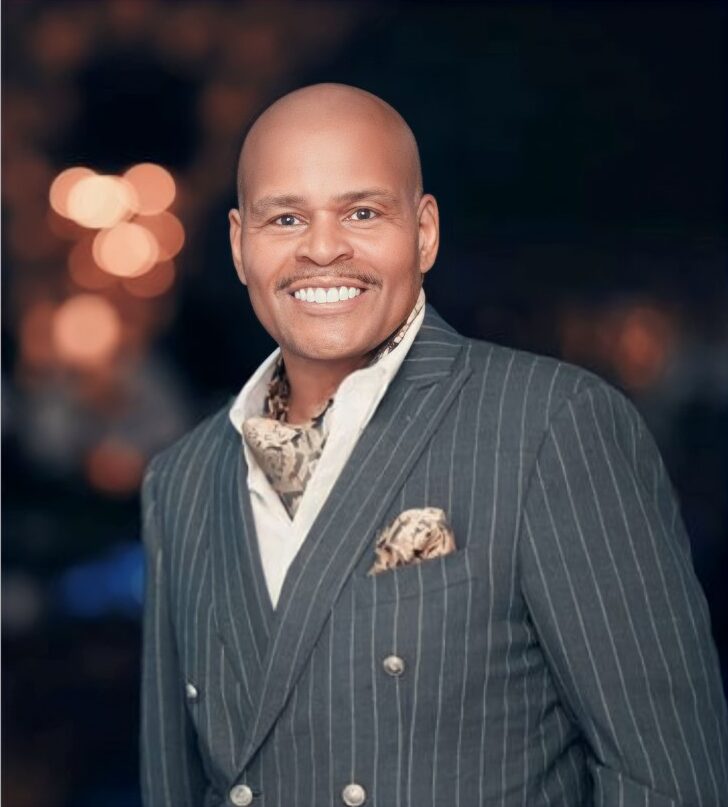 It provides various features like face swapping, animation, restyling, and others. You can have fun making funny memes, crafting personalized videos, or giving your photos an artistic touch as if they were hand-drawn by an artist.
The pricing plan of Unboring
| Free Starter | Advanced – $12.99 | Pro – $47.99 |
| --- | --- | --- |
| 5 Tokens per weak | 100 Tokens per Month | 500 Tokens per Month |
| Free Starter | 100 Face swaps | 500 Face swaps |
| 5 Animates | 100 Animates | 500 Animates |
| 2 seconds of video Restyles | 50 seconds of video Restyles | 250 seconds of video Restyles |
Ai Designs – All-in-One AI Graphic Designer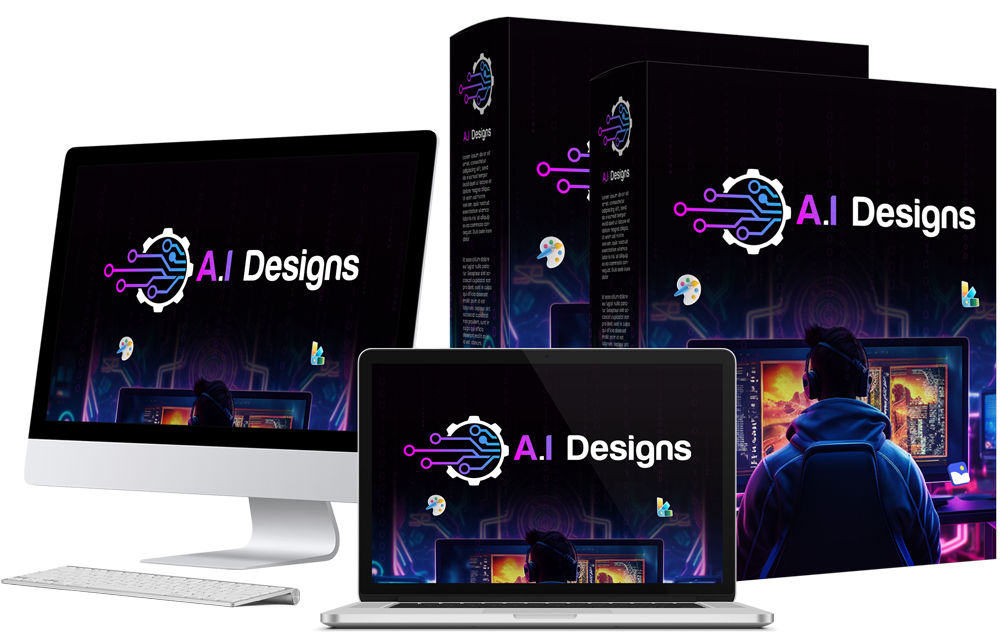 Elevate your marketing game with top-of-the-line graphic design tools that harness the power of advanced AI technology.
With the click of a button, you can transform your digital assets, including websites, emails, and videos, with an extensive library of premium graphics that include captivating logos, detailed reports, hyper-realistic digital mockups, box shots, professional-looking e-book covers, product bundles, expertly-crafted illustrations, and so much more.
Experience the ease and convenience of creating stunning designs and visuals that can take your marketing strategy to the next level.
Khroma, the next best AI design tool, is a wonderful answer for designers who frequently struggle to discover the ideal color scheme for their projects. The guesswork of color theory is eliminated with Khroma.
The procedure begins by asking you to choose fifty colors that appeal to you, which Khroma will then utilize to develop color combinations, whole color palettes, and even artwork incorporating those colors.
By marking your favorites, Khroma learns more about your tastes and provides additional possibilities. The more favorites you have, the more possibilities you will have.
Khroma offers a number of notable qualities that make it an ideal AI design tool for designers trying to simplify their color-picking process.
The SVG generator, which allows you to see how your chosen colors might enhance graphics, is one of the notable features. When you discover one you like, you may copy the SVG code and use it in your online applications.
Furthermore, by clicking on the i symbol in the top-right corner of a color palette, you can get the hex codes for each color, which you can copy and paste into your creations. This function allows you to rapidly include your preferred color scheme into your work.
Features
Create an infinite number of color palettes
Colors may be easily implemented by copying hex codes.
Images created by AI using your colors
Colorize your own photographs by uploading them.
Pricing
Free
We have Uizard, an AI design tool that allows you to utilize a simple drag-and-drop editor to develop web apps, mobile apps, websites, and desktop software. Uizard provides hundreds of templates from which to pick. You can even upload a hand-drawn drawing and have it converted to a functioning wireframe (insert mind-blown emoji).
One of Uizard's notable qualities is its simple interface, which makes it easy to use. Users of Figma or Adobe XD will find it laid up similarly, but easier to use. You may select from hundreds of design components or start from scratch. In either case, Uizard has you covered.
The most amazing feature, though, is its user interface design tools, which include a wireframe and screenshot scanner that can instantly convert your designs or images into editable mockups.
Based on a supplied picture or URL, you can use the theme generator tool to generate design themes complete with colors and fonts. There's also a word-to-image generator, text helper, and focus predictor, which tells you where you should concentrate your efforts on your design.
Features
There are hundreds of templates to pick from.
Make websites, web applications, and other things.
Make a working wireframe from a drawing or screenshot.
Numerous design aspects.
A simple drag-and-drop interface.
Pricing
Free: $0
Pro: $12/monthly
Business: $39/monthly | Billed Yearly
Google's AutoDraw demonstrates how accessible AI design tools can be. It easily transforms your basic sketches into professional images. Its machine-learning system predicts what you're trying to draw and gives you a selection of finished sketches from which to choose.
By using AI, AutoDraw revolutionizes rapid drawing and brainstorming. Its user-friendly interface, paired with machine learning, makes it a useful tool for everyone, from doodlers to expert designers. AutoDraw's predicted drawings enrich your creative journey, whether you're working on a major design project or just sketching for pleasure.
Features
Creates elegant drawings from crude sketches.
Machine learning is used to forecast and enhance drawings.
Ideal for rapid sketches and brainstorming.
Pricing
Free
Let's Enhance is an AI-powered graphic design tool that increases image quality without sacrificing detail. It is particularly beneficial for expanding low-resolution images and improving the clarity of antique photographs.
It may add features that were not previously there using neural networks, resulting in a high-quality image from even the most pixelated sources.
Let's Enhance demonstrates the capability of AI in picture editing and restoration. It restores low-quality photos and ensures they match the highest resolution standards. Let's Enhance is an effective method for improving image quality for print or digital media.
Features
Image enlargement without sacrificing quality.
Fills in the blanks with neural networks.
Ideal for printing low-resolution photos.
Pricing
10 credits: Free
100 credits: $9/month
300 credits: $24/month
Vance is a deep learning and AI design tool that generates high-quality visuals automatically. It operates by feeding it a photo and then instructing it to build a comparable image based on what it has learned from the original. You may also create short mockups or a whole marketing campaign with a single click.
Features
Picture enlarger, denoiser, sharpener, and other picture-altering AI technologies are available.
Images can be created for websites, blogs, banners, or items.
Pricing
100 credits: $3.96
1000 credits: $14.36
Fronty is a design collaboration platform that leverages artificial intelligence to produce HTML and CSS code from your design in minutes. The tool works with Figma, Sketch, and Adobe XD to let you build and share design components with your team.
Fronty use artificial intelligence to recognize and categorize design components, making it simple to locate and reuse them in your projects. It can also develop unique design systems based on brand color palettes and typography, which saves you time and work.
Features
Converts picture designs into functional webpages.
Custom HTML, CSS, and React code is generated.
It speeds up the web development process.
Pricing
Freemium: $0
Pro: $4.52 monthly
Advance: $9 monthly
Jasper.ai is an AI art generator that can generate unique graphics and photos depending on human input in seconds. It provides high-resolution 2k photos with royalty-free commercial use, no watermark, and an infinite number of generations.
Users have complimented Jasper.ai for being quicker and easier to use than searching for stock photographs or making graphics themselves. In addition, Jasper.ai provides an AI writing tool that can produce material and enhance writing.
Jasper.ai has gotten favorable feedback from users, who say it helps them create content and improve their design process. The quality of the produced photographs has been highly evaluated and complimented.
Pricing, picture ownership, commercial copyrights, biases in image production, and refund and cancellation procedures are all covered in Jasper.ai's FAQs.
Users may publish AI-generated photographs on their websites/blogs and may use the images for business reasons. The photographs, however, are not exclusive to the users and may be used by others as well.
Features
Boss Mode
Chrome Extensions
Business Features
Jasper Chat
Surfer SEO Integraton
Pricing per month
Starter: $24
Boss Mode: $49
Deep Art Effects is cutting-edge image processing software that edits photographs using artificial intelligence. It allows you to effortlessly and creatively manipulate photographs to create one-of-a-kind pieces of art.
You can also use the program to automatically optimize or colorize pictures, scale images to four times their original size without losing quality, and emulate expensive SLR cameras. Do whatever you want offline, and your images will follow you anywhere.
Features
Creates unique artwork from snapshots
Color correction in ancient photographs
Provides a variety of art styles
Documents are sent via cryptography.
Produces high-resolution artworks up to 1080p.
Pricing
Free | Businesses can avail a free test plan
RemoveBG is a background removal AI tool. That's all there is to it. Upload an image and then use eliminate BG to eliminate the backdrop, leaving only a transparent one.
It is available as a plugin for Photoshop, Figma, Sketch, Gimp, and other programs. Getting rid of picture backgrounds is a regular operation in graphic design workflows, thus this one-click tool is really useful.
Features:
Adobe Photoshop extension
API Documentation
Design templates
Downloadable app for Windows, Mac, Linux, and Android
Integrations, tools, and apps
Here you can find the Best Tools for UI UX Designer that will change the way you create things.
Pricing per month
Free Account: $0
Subscription Plan: Starts at 40 credits for $0.23 per image
Pay as You Go: Starts at one credit for $1.99 per image
Conclusion
AI tools have revolutionized the field of graphic design, providing designers with powerful capabilities to enhance their creativity and productivity. These tools leverage artificial intelligence and machine learning algorithms to automate tasks such as image editing, color selection, layout generation, and font matching.
They can quickly generate design options, analyze user preferences, and suggest improvements, saving designers valuable time and effort.
With their ability to streamline workflows and offer intelligent suggestions, AI tools have become invaluable companions for graphic designers, empowering them to push the boundaries of their craft and deliver exceptional results.