Top 6 Game-Changing Figma Plugins
Millions of individuals utilize the well-liked design platform Figma worldwide. Figma plugins are extensions that may expand the functionality and add new features to Figma. Figma plugins come in a wide variety, some extremely innovative.
Here is a list of the top 6 game-changing Figma plugins
Text helper
Nowadays, Figma is primarily native. View the number of chosen characters, replace, and input text content.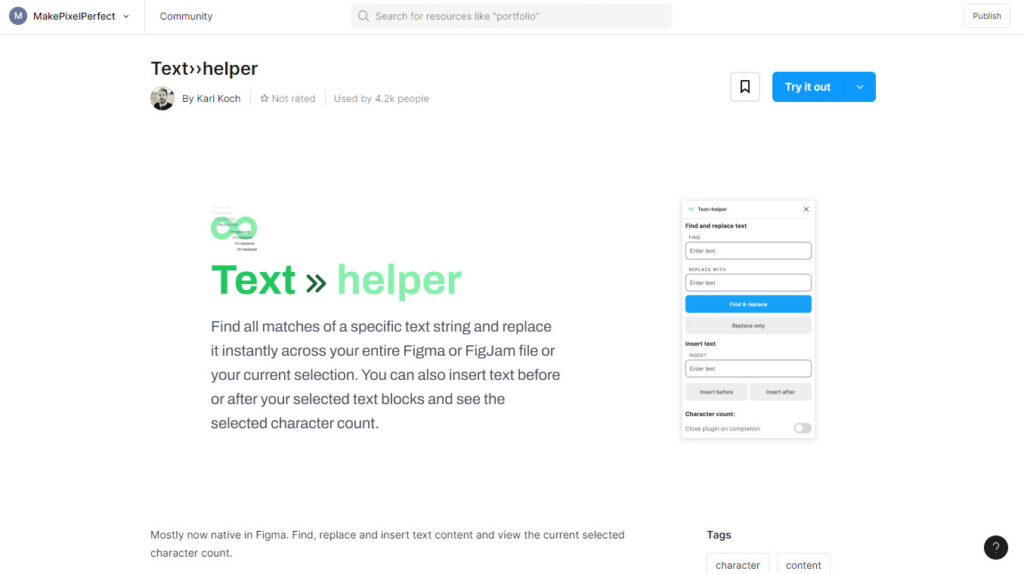 Sometimes, you might have repetitive text that isn't part of a component or instance system. In these situations, the Text-helper Figma plugin can be beneficial. It allows you to easily and quickly replace the content of each instance of the text.
There are three primary methods for replacing something
To replace anything that matches, enter replacement text in the Replace field, enter "Find & Replace" (or hit enter), and then type the text to match in the Find input.
Selecting a single item will fill the Find input with that text value. Entering replacement text in the Replace input will replace everything that matches. Pressing "Find & Replace" (or entering) will do this.
Select several items to replace everything in your current selection, type a value in the Replace field, and press "Replace only" (or enter).
Additionally, you can add text before or after the strings you've chosen, which is helpful for quickly prepending or appending "-light" to your selection. Furthermore, viewing how many characters are in the current selection is simple.
8 icons – images & Icons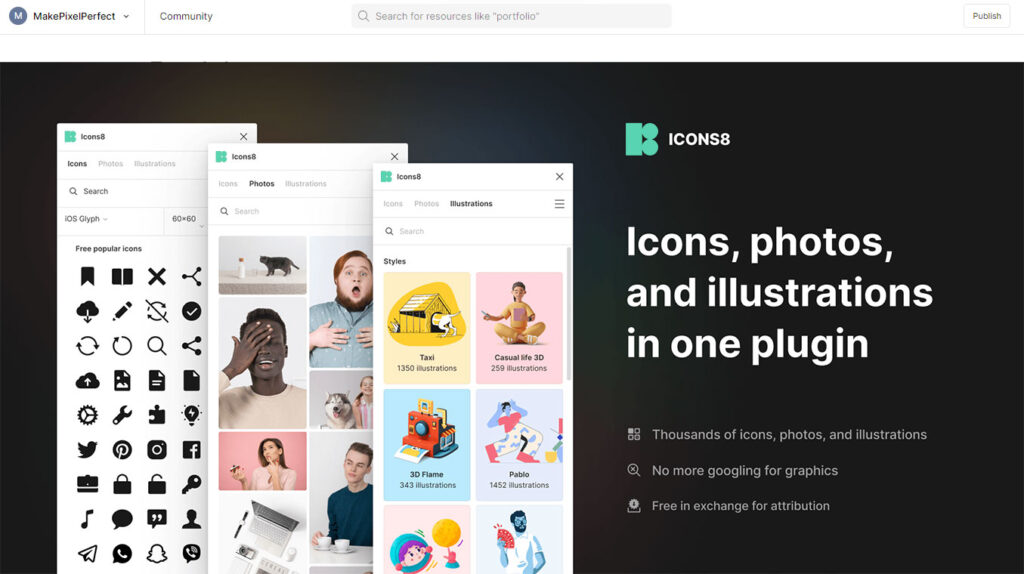 The team at Icons8 has produced more than 3,000,000 icons (consistent, pixel-perfect, in 40+ styles), pictures (flat and 3D, vector and raster), and illustrations (people, objects, and animals, ready-to-use shots, and background-free elements).
Iconify – Get Icon, Photos, and Illustration within Figma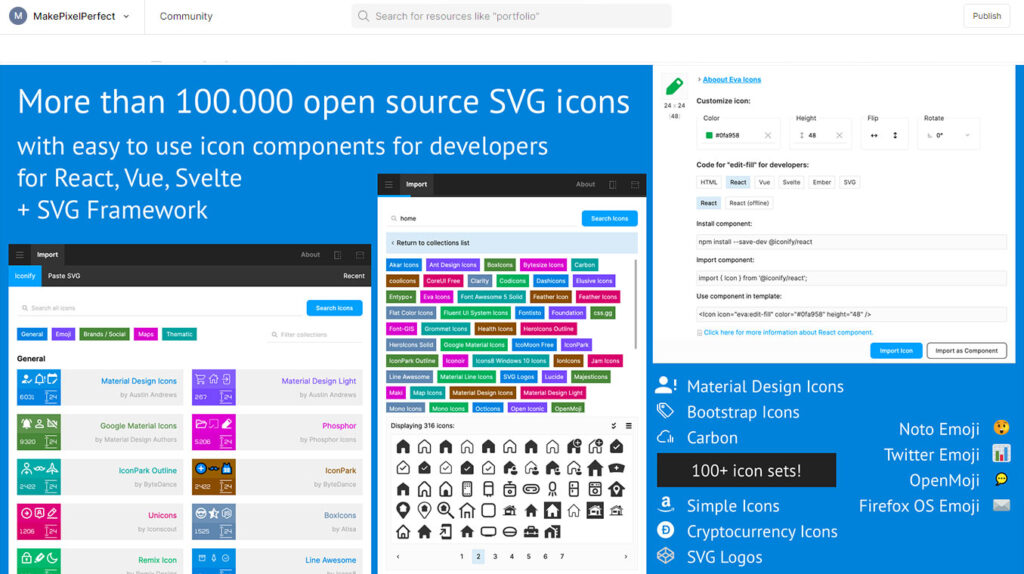 Goodbye to the endless search for the ideal icon. Iconify integrates a vast icon library straight into your Figma canvas. You may locate and add icons directly to your designs using a simple keyword search. What's best? Because they are vector-based, these icons are transparent, clear, and scalable.
Unsplash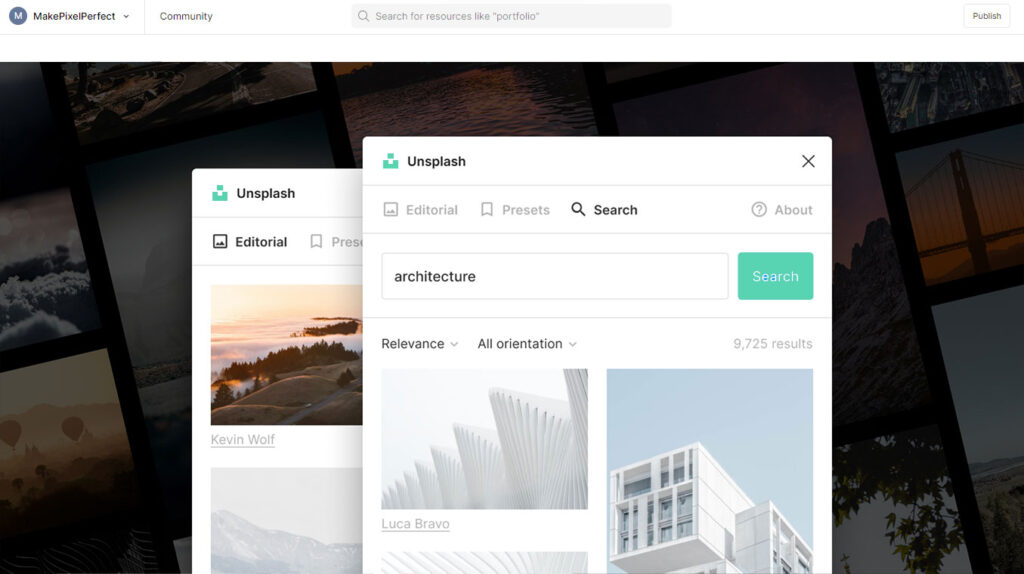 Stock images are in handy if you need to get designing right away. You may access gorgeous, royalty-free photos the community posts using the Unsplash Figma plugin. The images can be used for free as mockups or placeholders in your upcoming design projects.
Removal.ai – Remove background Image with AI in Figma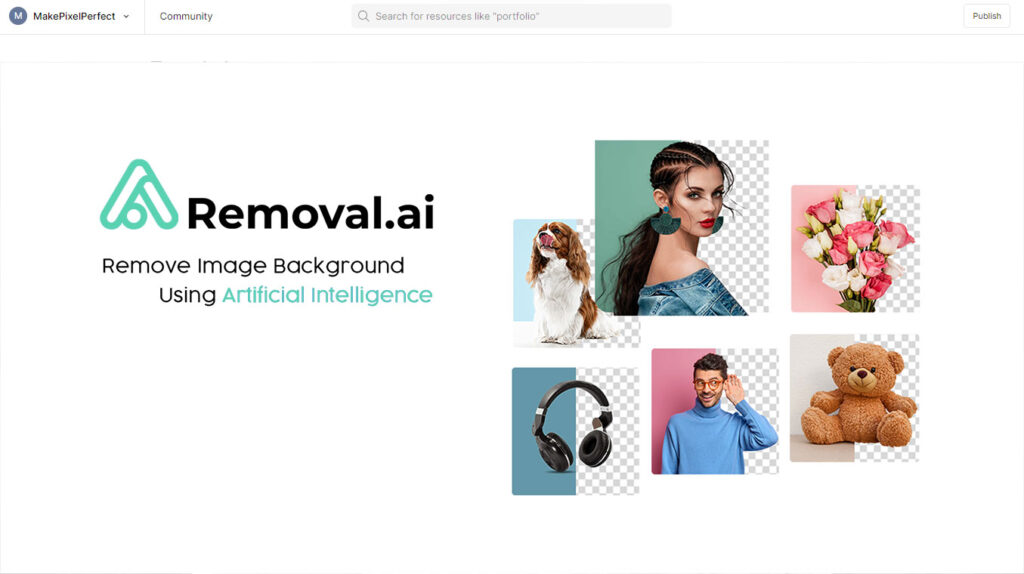 One of the most fundamental tasks in the design process is the removal of image backdrops. It takes a long time to complete and is typically one of the most challenging activities. Removal.AI is a handy tool that can reduce the time required to remove backgrounds by more than half. This tool quickly removes backdrops so you can go on to the next step and incorporate the image into your design.
Relume Ipsum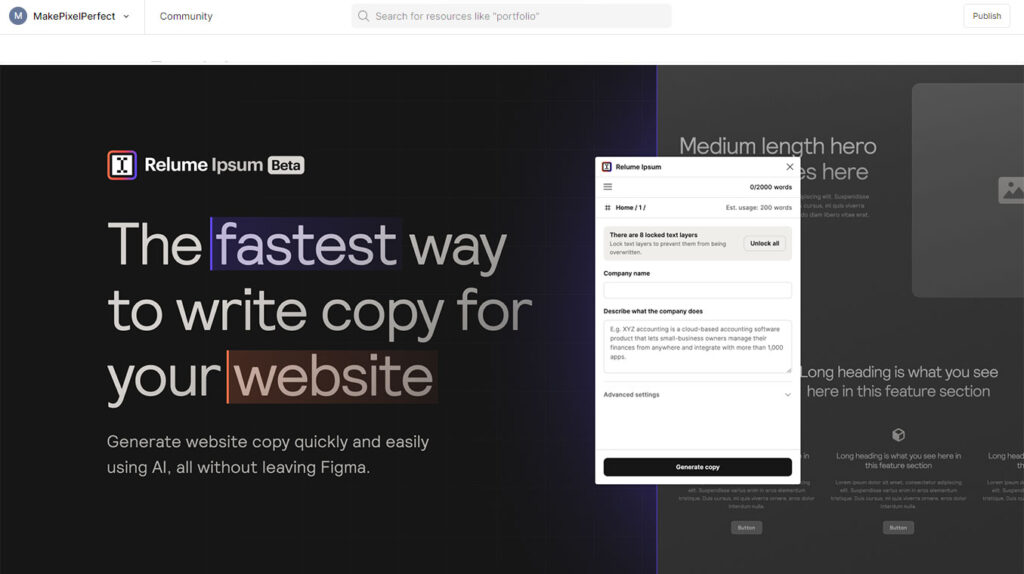 Relume Ipsum is a Figma plugin that uses artificial intelligence to create copy for your designs. The ability to instantly add realistic content to website wireframes and designs without waiting for clients to contribute copy is a game-changer for designers and developers.
Utilizing Relume Ipsum is simple. Simply provide the plugin with a brief description of your business or product, and it will produce original and exciting content. Relume Ipsum can also be given more detailed instructions, such as the tone of voice or the terms you want to use.
It offers a free trial; however, after that, it requires a subscription. Relume Ipsum is well worth the investment for every designer or developer who wants to save time and produce better designs due to its relatively inexpensive pricing.
Benefits of Figma Plugins
Using Figma plugins has many advantages, including
Enhanced productivity: By automating operations that you would otherwise have to perform manually, Figma plugins can help you save time and effort. Your time could be freed up, allowing you to concentrate on more crucial tasks like developing and prototyping.
Enhanced quality: By giving you access to new features and capabilities, Figma plugins can assist you in producing better designs. There are plugins, for instance, that can assist you in producing realistic material, making high-fidelity prototypes, and visualizing data.
Enhanced creativity: Figma plugins provide access to new tools and resources, which might help you be more creative. There are plugins, for instance, that can assist you in finding graphics, producing copy, and developing user flows.
One of the fantastic features of Figma is its ability to convert any website into designs that can converted into a WordPress Page using AI plugins.
Conclusion
These six plugins significantly expand the capabilities of Figma, which has changed how we design. These plugins improve its effectiveness, teamwork, and excitement by addressing various parts of the design process.
Utilize these essential plugins in your Figma workflow to make your design process more accessible, and your output look better than before.
Recent Topics