Youtube Channels to Learn Photoshop from Basic to Pro
Introduction:
Adobe Photoshop is a raster graphics editor for Windows and macOS developed and marketed by Adobe Inc. Photoshop is a must-have application for designers, web developers, graphic artists, photographers, logo designers, and other creative professions.
It is commonly used for picture editing, retouching, image composition, graphic mockups, and effects. Images that are digital or scanned can be altered for usage online or in print.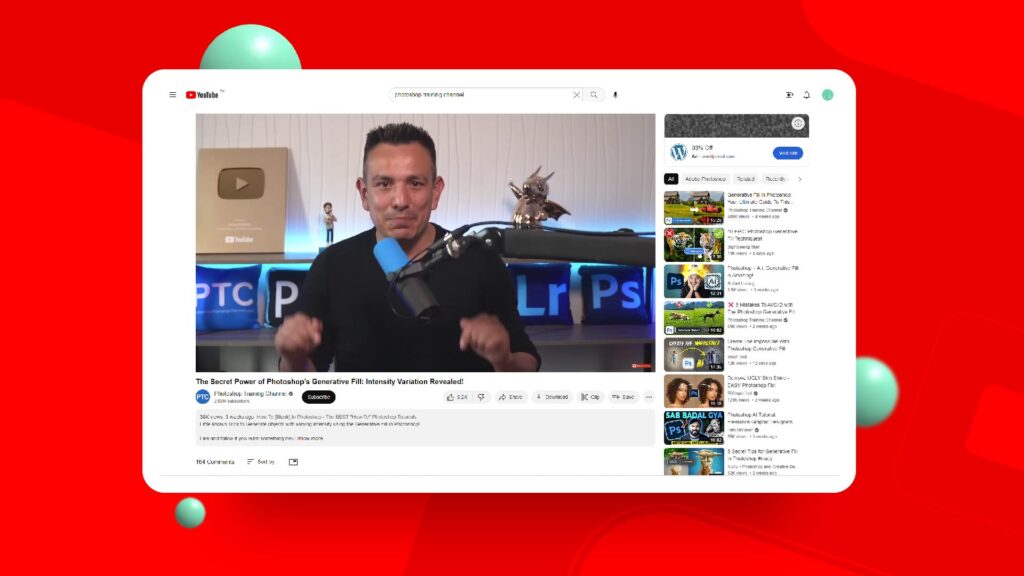 Adobe Photoshop is simple to use, and you can learn to edit using it in a short amount of time. If you're seeking for a YouTube channel to help you with graphic design in Photoshop, you've come to the perfect spot.
List of Professionals to learn Photoshop from Basic to Pro
There are several YouTube channels that teach Photoshop, and determining which one is the best may be challenging. In this post, we will look at some of the top YouTube channels for Photoshop learning and help you determine which one is perfect for you.
Photoshop Training Channel
PH Learn
PiXimperfect
Imad Awan
Photoshop Surgeon
Photoshop tutorials
Skills Factory
Howard Pinsky
Photoshop tutorials by Webflippy
Gavin Hoey Photo Videos
Terry White
Blue Lighting TV Photoshop
Evan Eckard
TutorVidCOM
Adobe Photoshop
Photoshop Hustler
Mir Rom
Photoshop Creative TV
Photoshop training Channel (JESUS RAMIREZ)
Photoshop Training Channel is the greatest place to obtain expert Photoshop training. This channel has around 1.77 million subscribers. It enables users to learn rapid Photoshop methods. PhotoshopTrainingChannel covers everything from masking to perspective matching.
You may discover effective ways for blending a subject into any Photoshop backdrop. Subscribe to their channel and begin studying right now.
PH Learn (AARON NACE)
PHLEARN assists viewers in learning Photoshop in the simplest way possible. This channel has about 1.89M subscribers. They are devoted to discovering the simplest and most straightforward approach of teaching Photoshop.
PH Learn will use real-life examples to demonstrate the best approach to learn. They provide the greatest Photoshop lessons for picture editing and graphic design. You may develop your abilities and make your images seem better this way. Subscribe to and follow their YouTube channel.
PiXimperfect (UNMESH DINDA)
PiXimperfect is a YouTube channel dedicated to teaching Adobe Photoshop and Lightroom. They provide free lessons, tips and techniques, and step-by-step instructions for using Photoshop and Lightroom.
PiXimperfect cover all of the essentials of Photoshop so that viewers may learn how to improve their images, modify graphics, and apply creative effects.
Imad Awan
Imad Awan's YouTube channel is highly regarded as one of the best channels to learn Photoshop. With comprehensive tutorials, engaging teaching style, and a variety of content, Imad Awan provides step-by-step instructions and practical examples for beginners and advanced users alike.
His responsive approach to viewer interaction and regular updates make his channel a valuable resource for mastering Photoshop skills.
Photoshop Surgeon
PhotoshopSurgeon will show you how to make any image appear fantastic and appealing. Their lessons are well-structured. It will also walk you through the topic step by step. By following their lessons, you can simply edit your photos while also assisting others in making their photos more loving. They have around 1 million subscribers.
For your viewing enjoyment, the Photoshop Surgeon makes dramatic upgrades and startling modifications to photographs.
Visit the WATCH page to see the show, which includes extraordinary transformations such as a 100-year-old lady made to seem youthful again, a woman given the dimensions of a Barbie, transforms into celebrities like as Taylor Swift, Kim Kardashian, and Selena Gomez, gender changes, and more!. See the sample video of their creativity.
Photoshop tutorials
Photoshop Tutorials is a well-known YouTube channel. This channel has around 1.14 million subscribers. You'll discover comprehensive Photoshop tips and tricks videos on this channel.
This channel will teach you how to make magazine covers, social media banners, logos, and other types of picture editing skills, as well as how to employ fonts and colors in Photoshop.
Skills Factory
The Skills Factory YouTube channel is an excellent place to learn Photoshop, office lessons, and 15-minute tutorials. It's also an excellent place to learn about FL Studio, Ableton Live, and Premiere Pro. Bai instructions produces the channel, which offers high-quality instructions that are simple to follow and comprehend.
The channel includes lessons on a variety of topics, such as:
How to Use Photoshop?
How to Use Ableton LivePremiere Pro Tutorial?
How to Use Microsoft Office?
How to Use FL Studio?
The channel is an excellent resource for anybody looking to learn how to utilize these tools, and the training are simple to follow and comprehend.
Howard Pinsky
Howard Pinsky is a highly accomplished professional in the field of design and technology. He currently holds the esteemed position of Senior XD Evangelist at Adobe, where he specializes in Adobe XD and Photoshop. With a vast array of expertise, Howard's influence extends to various domains, including UI/UX, web/app design, photo composition, photo retouching, the fundamentals of Photoshop, designing, and special effects.
His channel serves as a hub for invaluable tutorials, covering a wide range of subjects. Whether you're interested in mastering UI/UX techniques, refining your web/app design skills, delving into photo composition, honing your photo retouching abilities, grasping the essentials of Photoshop, or exploring the realm of designing and special effects, Howard's channel offers an abundance of resources.
Regardless of your level of expertise or the specific area of interest you wish to explore, Howard Pinsky's YouTube channel is an invaluable resource that caters to diverse learning needs.
Discover a wealth of informative and engaging lessons that are sure to enhance your understanding and proficiency in the field of design and technology.
Photoshop tutorials by Webflippy
For anyone interested in learning more about Adobe Photoshop, the Photoshop Tutorials by Webflippy YouTube channel is an excellent resource. The channel has a wide range of lessons on subjects such as Photoshop effects, picture editing, and more. Whether you're a newbie or a seasoned Photoshop user, there's certain to be a tutorial that can help you improve your abilities.
Gavin Hoey Photo Videos
Photographers should go here to see Gavin Hoey show the importance of Photoshop for photographers. The tutorials include digital imaging and picture modification. The professional photographer from the United Kingdom launched his YouTube channel in 2008, and it enjoys thousands of views every day.
Terry White
Terry White has been running his own YouTube channel since May 2009, with over 487K followers. The channel has over 850 videos and covers a wide range of Adobe topics other than Photoshop.
Terry is a Photoshop professional that specializes in teaching picture editing skills. He even shows off his abilities on Masterclass and enjoys sharing his expertise.
Blue Lighting TV Photoshop
Since its inception in October 2011, the Blue Lightning TV Photoshop channel has attracted 946K subscribers. Marty Geller hosts and developed the channel, and its major draw is the ability to learn from a well-known expert.
As a beginning, you may be hesitant to trust the person from whom you are learning. But with this channel, you can simply solve that obstacle since Marty Geller has a wonderful name in the entertainment world and has worked with various known TV stations and publications, demonstrating his editing talents to perfection.
Evan Eckard
The EvanEckard channel has been active since October 2011 and now has 117K members. Evan Eckard, the presenter and founder, demonstrates his abilities with an aesthetic approach that is unmistakably informed by his gaming lifestyle.
The 220+ videos on his channel provide further insight into the graphic aspects of Photoshop and may be entertaining for novices looking to break into the IT business.
TutorVidCOM
This channel covers everything from the very fundamentals of Photoshop through the intermediate levels and finally the more complex in-depth explanations.
The channel also includes a quickie playlist called Learn Photoshop in 60 Seconds/Day, which has video lessons you may watch without blinking (for example, how to resize ruler tips). Many of the videos are for CS3 and CS4, however this doesn't detract from your learning because the material is straightforward and to the point.
Adobe Photoshop
Photoshop is the tool of choice for many individuals when it comes to picture manipulation. It's strong and adaptable, allowing you to modify photographs in ways that would otherwise be difficult or impossible.
The Adobe Photoshop channel has a wealth of information on how to use their software products; this channel provides videos on how to utilize various aspects of Photoshop CC 2019, as well as some fundamental tips and techniques for newbies just starting started with the application.
Photoshop Hustler
Photoshop Hustler is a free Photoshop lesson YouTube channel. The courses are simple to understand and cover a wide range of subjects, from beginner to advanced. They also offer an active community where you can ask questions or share your own work with those who are curious about the software.
Mir Rom
Mir Rom is a YouTube channel with Photoshop and video lessons. They provide tutorials with simple, step-by-step instructions on basic Photoshop picture editing, digital art, brochures, flyers, posters, infographics, site templates, and other topics. Mir Rom's YouTube channel has over 290K followers and offers a range of Photo Manipulation and Movie Poster techniques.
You'll find in-depth courses on a variety of creative themes here. Additionally, this channel offers Photoshop tutorials for Digital Art, Photo Manipulation, Posters, Flyers, Movie Posters, and Web Design.
Photoshop Creative TV
Mir Rom's YouTube channel has over 290K followers and offers a range of Photo Manipulation and Movie Poster techniques. You'll find in-depth courses on a variety of creative themes here. Additionally, this channel offers Photoshop tutorials for Digital Art, Photo Manipulation, Posters, Flyers, Movie Posters, and Web Design.
Conclusion:
These channels provide a wealth of knowledge for learning Photoshop. Depending on your skill level and the specific topics you're interested in, you can choose the channel that aligns best with your learning goals. Remember to practice regularly and experiment with different techniques to enhance your skills in Photoshop.