Create PPTs in seconds using Tome AI Tool
Tome AI is a new AI tool that can make presentations for you per your preferences. Users express their concepts in the provided text bar, and the system generates slides with relevant images and texts in response to the prompt.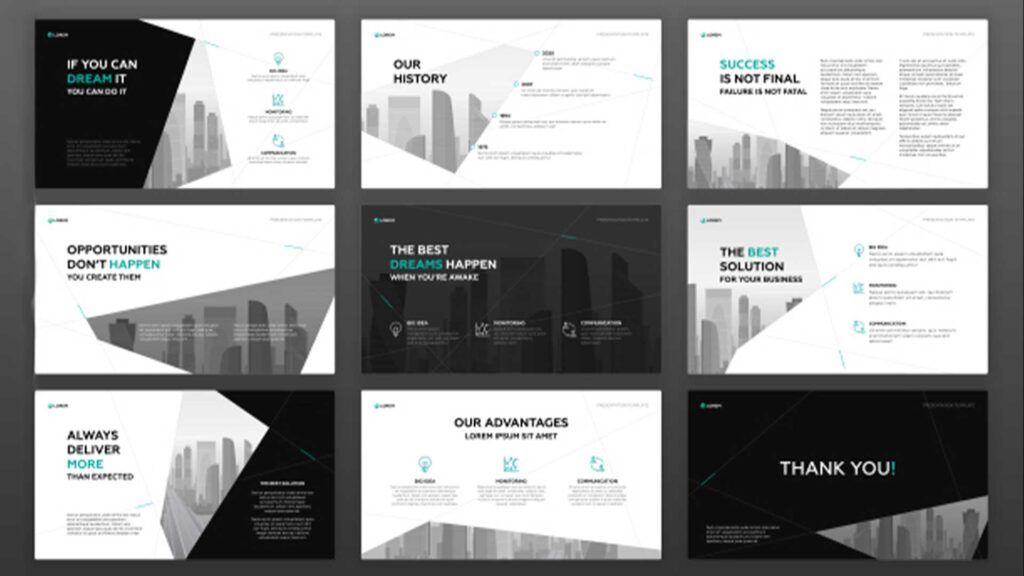 It draws text and graphics from both ChatGPT and DALL-E. Users of this tool currently have access to many template options.
Who created Tome AI?
Co-founders Keith Peiris and Henri Liriani created Tome AI. The well-known AI tool helps users create thorough presentations using automation and artificial intelligence by using powerful AI models made by OpenAI, such as ChatGPT and DALL-E 2.
What is Tome AI?
Tome AI is a simple, AI-powered tool for telling stories and quickly producing outstanding presentations. You can make amazing-looking presentations using Tome AI that can be easily seen on any screen.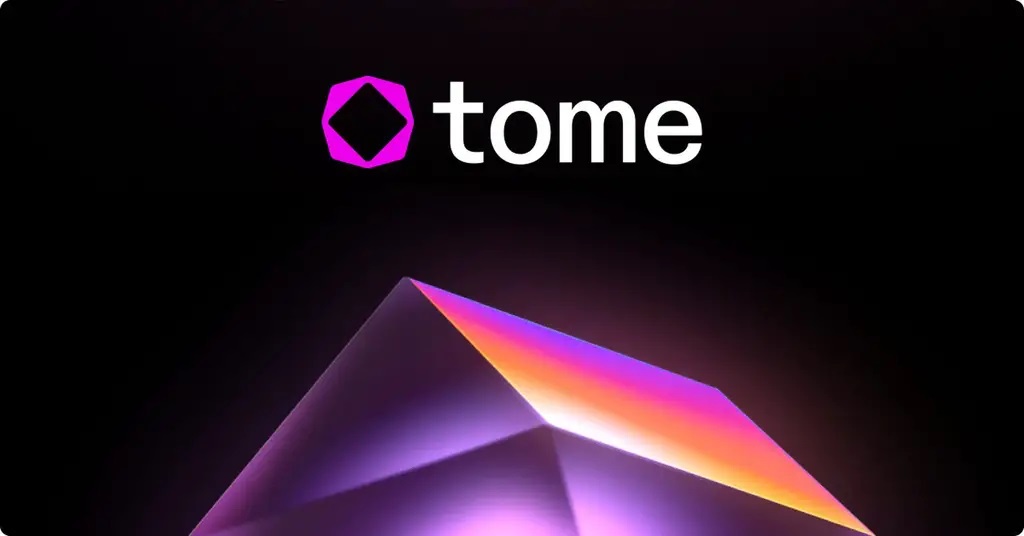 Tome enables users to customize presentations by adding tables, animations, graphics, etc. Though users do not need to be experts in AI to use the platform, being more precise with the explanation or request is the key to creating superior presentations.
 The users don't have to write descriptions, which is interesting. Tome provides audio-to-text descriptions so users can speak their instructions into the tool.
Create PPTs using Tome AI
Here are a few steps to create visually appealing slides using the Tome AI tool.
Step 1:
Go to the Tome AI tool or website.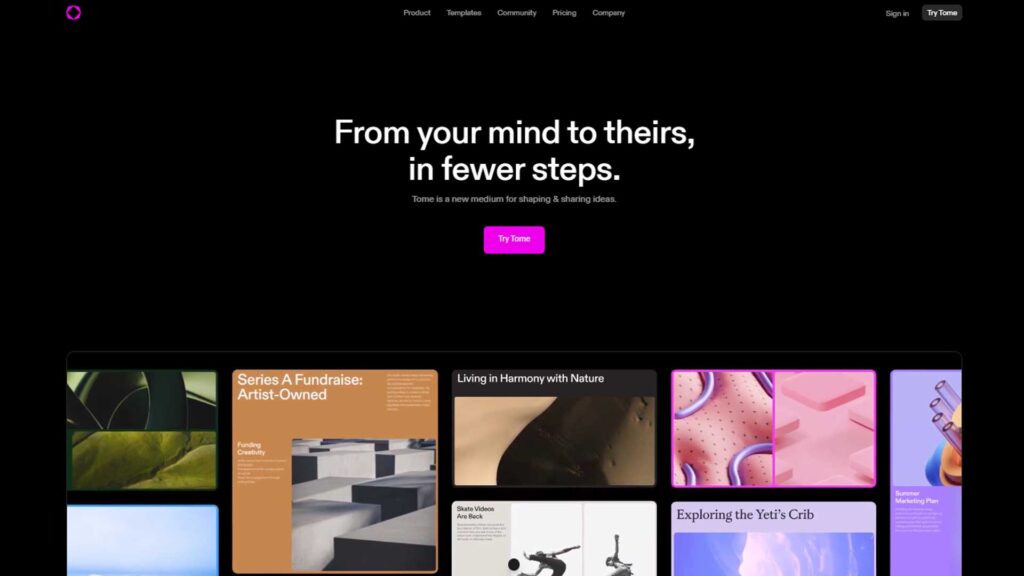 Step 2:
Click on ''Get Tome for Free'' or "Choose a plan" and log in.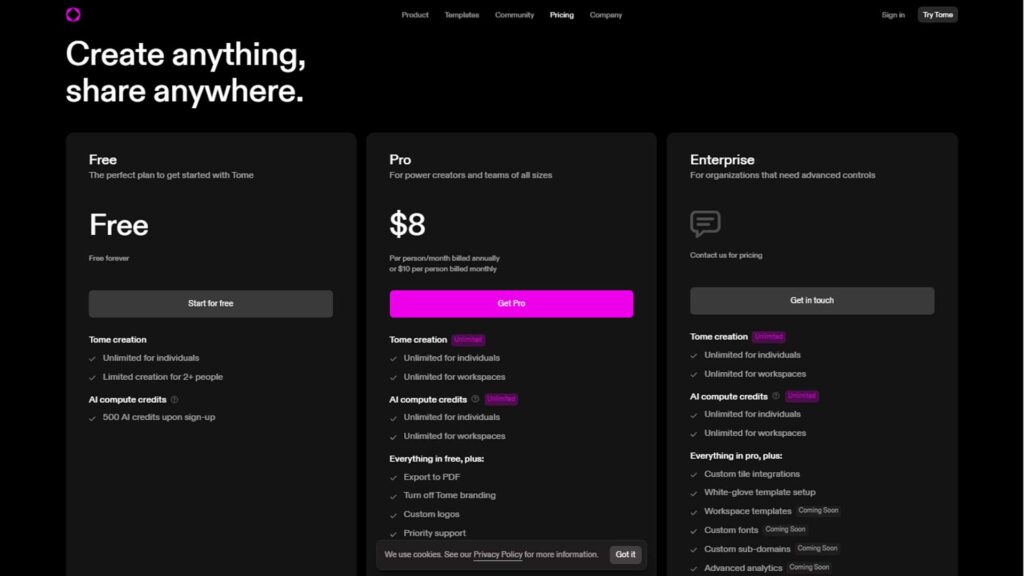 Step 3:
After creating an account, establish a workplace by clicking ''create'' in the upper right corner.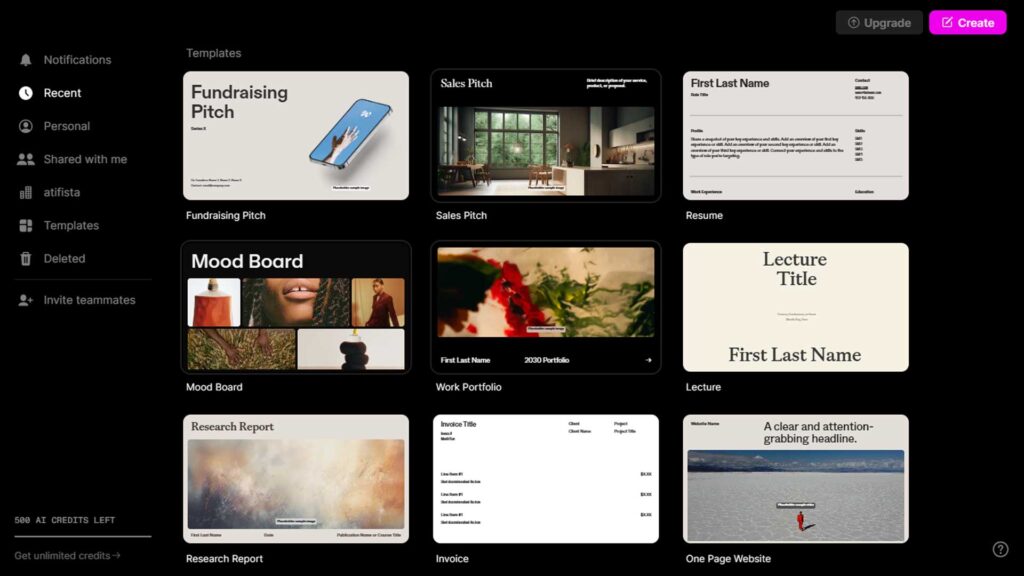 Step 4:
Enter a brief text description of the presentation you are hoping to watch.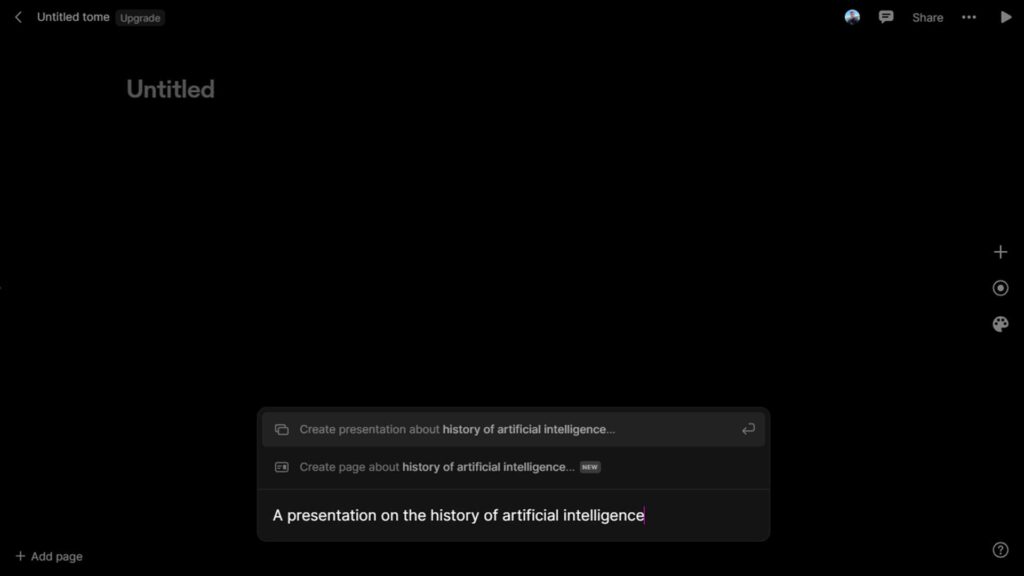 Step 5:
Press Enter, and the AI tool will handle the remaining steps.
The result will be an impressive 8-page PPT with the first page as a header (what you wrote in the text), the index page following, and the next six pages with six different subjects for the same material.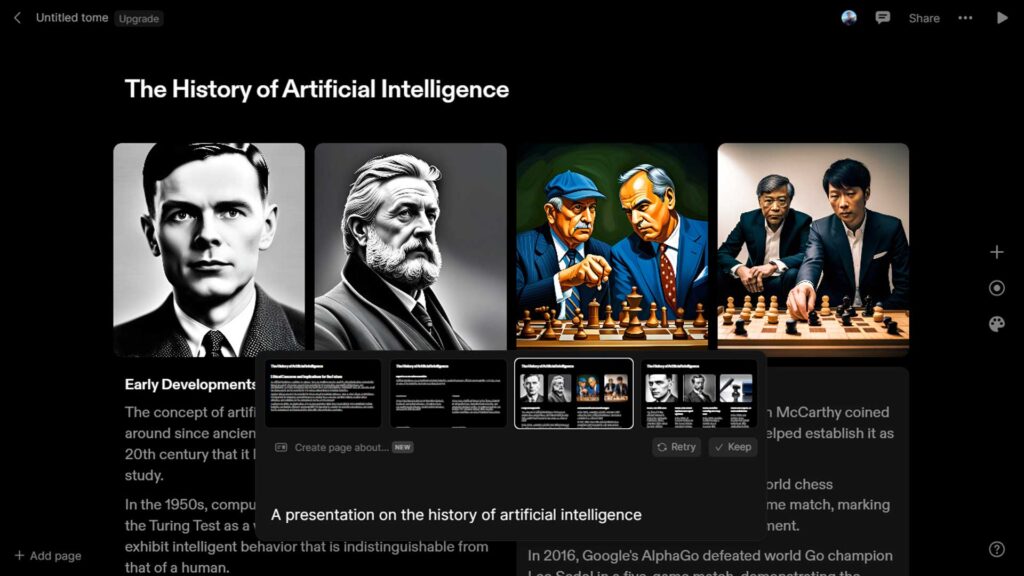 If you want to make any changes, click the section of the presentation you want to edit same, like PowerPoint.
How to download ppt from Tome AI
Your presentation can be exported from Tome.ai in PDF Format (only available to pro users).
Visit the presentation on Tome.ai that you want to export.
The '…' (three-dot icon called ellipsis) button is on the screen.
Choose Export to PDF as the format from the dropdown box.
Download the PDF file to your device after the export process is completed.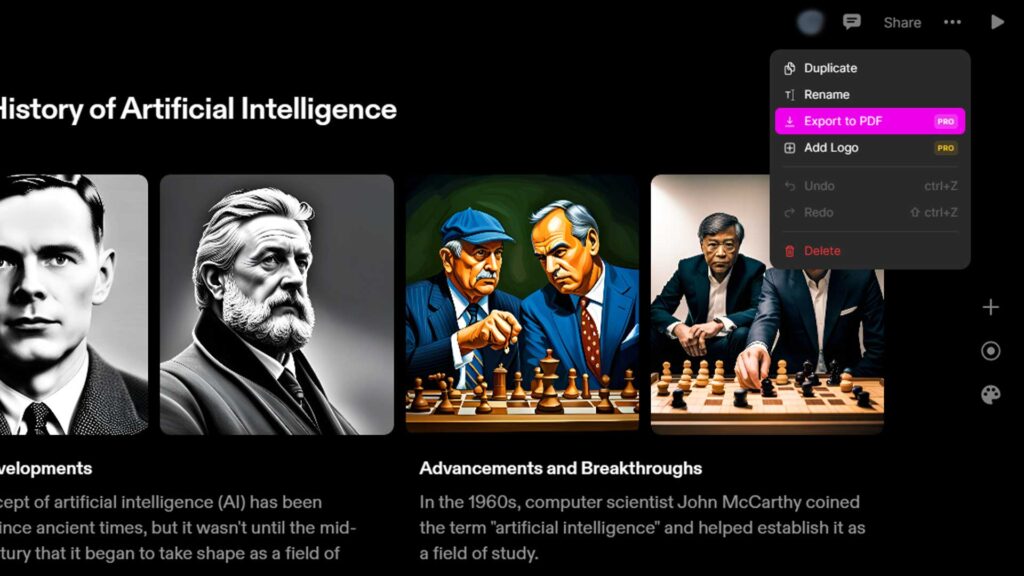 Features:
Tome AI's user interface is simple and intuitive for marketers and content creators of all experience levels (novice to expert).
Users can narrate their stories while Tome AI creates PPTs to add a unique touch.
You can effortlessly share your work with other users using the Tome shareable link.
This AI tool allows users to edit their work anytime, anywhere, with a single click.
Users may instantly create excellent presentations with Tome AI's preset templates.
Benefits of Tome AI
Save time and effort: You won't have to spend time and effort looking for editing templates, searching for photos and icons, or dealing with fonts and colors. Tome AI handles everything for you in only a few seconds.
Create PPTs using visually appealing designs: You can make presentations that appear to have been designed by a professional. Tome AI uses artificial intelligence to provide design suggestions and animations that fit your content and theme. Your presentations will appear professional, reliable, and appealing.
Improves Productivity and Creativity: It gives you access to an extensive collection of presentation templates, icons, pictures, and typefaces that you may use to make your unique presentations. You may also experiment with other design ideas and animations to select the perfect ones for your slides.
Optimized content: Advanced NLP algorithms are used by Tome AI to produce valuable data that users can utilize to optimize their content for greater engagement, more traffic, and higher conversion rates.
Tome AI Pricing
| | | |
| --- | --- | --- |
| Free | Pro | Enterprise |
| This option grants up to two users per account lifetime free site access and 500 free AI credits. | If invoiced yearly, each user would pay $8 each month. If not, each user must pay $10 per month. | The business plan costs $29.99 per month. |
Features in plans
| Free | Pro | Enterprise |
| --- | --- | --- |
| Unlimited for individuals | Unlimited Tome Creation for individuals | Unlimited Tome Creation for individuals |
| Limited creation for 2+ people | Unlimited Tome Creation for workspaces | Unlimited Tome Creation for workspaces |
| 500 AI credits upon sign-up | AI compute credits, unlimited for individuals and workspace | AI compute credits, unlimited for individuals and workspace |
| —————————— | Export to PDF | Everything in Pro plan |
| —————————— | Turn off Tome Branding | Custom tile integrations |
| —————————— | Custom logos | White-glove template setup |
| —————————— | Priority support | Workspace |
| —————————— | —————————— | There is something more in this plan coming soon. |
Find out more AI tools for Graphic Designers, UI / UX Designers and Content Creator.
Conclusion
To conclude, Tome AI is an innovative platform that uses the most recent developments in artificial intelligence to create powerful presentations.
ChatGPT and DALL-E 2's combined power enables the creation of dynamic visual storytelling that seamlessly blends texts and images. Users can add tables, animations, graphics, and other elements to their presentations using the tome ai tool.