How to improve graphic design through social media
Social networking sites are a great help to graphic designers. They use these sites to promote their work, communicate with colleagues, learn from experts, and stay updated on digital design trends. With so many platforms available, designers have many choices.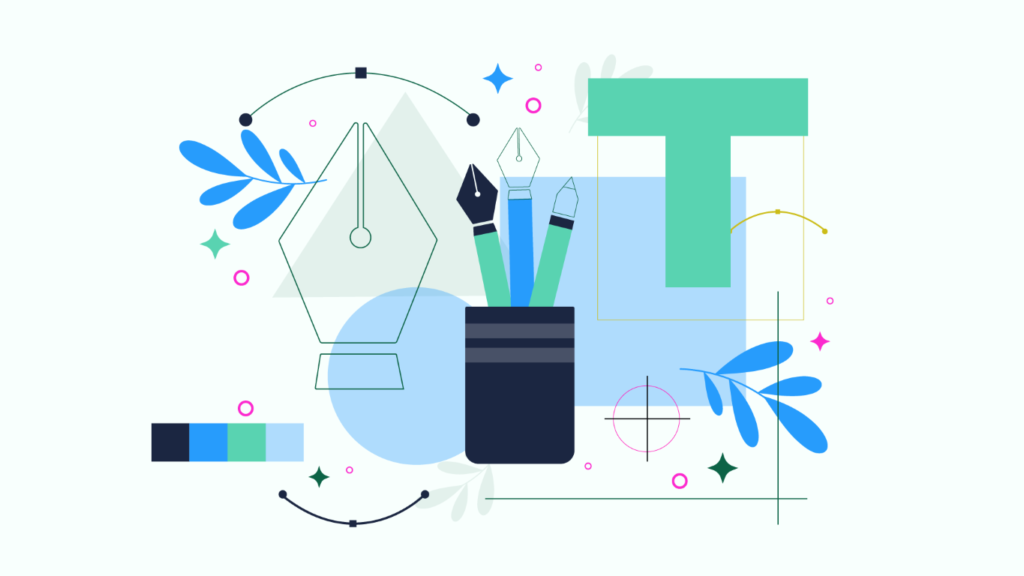 This article will examine social media platforms that can be especially helpful for gaining graphic design knowledge and fostering creativity.
Instagram
Pinterest
Behance
Dribbble
LinkedIn
Twitter
Slack communities
Riditts
Youtube
Facebook groups
Instagram
As a graphic designer, you continuously want to spread information about your creations to as many people as possible. And for posting photos, which platform beats Instagram on social media?
You may promote your artwork and logo designs for mugs, t-shirts, and other items on Instagram while providing users with helpful content and boosting engagement. However, producing visually attractive content that stands out from the competition can be challenging.
To explore different graphic design styles, using hashtags can be helpful. Follow popular visual design brands like Adobe, Dribbble, Vecteezy, Freepik, Behance, Envato, and others to stay updated with the latest trends and styles.
You can also search for graphic design on Instagram to find current and popular designs at the top of your search results. Using these resources lets you learn more about graphic design styles and stay informed about the latest developments in the field.
Here are some pointers to enhance graphic design using Instagram
Use good typography first. To improve readability, choose fonts that are readable at tiny sizes and switch to sans-serif typefaces from serif kinds for a modern look. For a luxurious and minimal look, use Serif Typefaces.
Make use of powerful graphics with lots of contrast. Use eye-catching colors, bold lines, and pointed edges to produce visuals that catch people's attention.
Consider the intended usage for your graphics. Will they be incorporated into a larger image or video or used merely as a finishing touch? Make sure the graphics you use are appropriate for the situation.
Pinterest
Enhance your graphic design abilities with Pinterest. Create boards for design inspiration, color schemes, and techniques. Analyse effective designs for inspiration.
Join discussion boards, follow influential designers, and share your work to get feedback and become more involved in the design community.
You can also use Pinterest's visual search feature to find related designs and expand your creativity. By immersing yourself in the platform's visual content, you can develop a broader design perspective and improve your skills.
Behance
You can showcase and find creative work on Behance. You'll never run out of inspiration again if you browse their carefully maintained gallery of Graphic Design.
It's the best place to see what's trending in the design world now, with categories including typography, branding, packaging, infographics, and many more. Additionally, you can construct an online portfolio on Behance if you don't already have one.
Dribbble
Another excellent resource for finding some of the best designers and creatives in the world is Dribbble. According to them, they are "the top place to find and showcase creative work and the home to the best design professionals in the world." Designers can share their work, receive feedback, and interact with other designers on the social networking site Dribbble.
It's an excellent resource for developing your graphic design abilities, including UI design, artwork, web design, and typography. Dribbble is an excellent source for finding inspiration for your work because it is filled with outstanding graphic work.
LinkedIn
Optimize your profile to highlight your design abilities and achievements if you want to improve your graphic design on LinkedIn. Share a portfolio of your finest work, emphasizing different projects that highlight your range of skills.
Join relevant groups, leave comments on posts, share your insights, and interact with design-related content to network with other industry experts. To establish yourself as a thought leader, publish articles or blog posts about design trends, business insights, or your design process.
Utilize LinkedIn's network to explore opportunities for partnerships, independent work, or even full-time design positions.
Twitter
Twitter is the social network of choice for sharing information and contacting others quickly, Whether for personal or professional reasons. Twitter allows designers to network with other people in the creative industry and with people who might become clients.
Slack communities
Check out Slack communities to improve your graphic design abilities and network with like-minded people. These online organizations, or Slack channels or groups, are places where designers of various skill levels gather to talk, share, and work together on design-related issues.
Joining such groups gives you access to various viewpoints, resources, and growth possibilities. Discussing design trends, tools, methodologies, and business news is possible in these Slack groups.
Additionally, Slack communities offer beneficial networking opportunities. You may network with designers, illustrators, animators, and specialists from different design fields.
To get the most out of Slack groups for graphic design, participate actively in discussions, pose questions, share your knowledge, and connect meaningfully to keep a welcoming and enlightening environment, act with respect, be open to learning, and make valuable contributions.
Riditts
Many Reddit subreddits, like r/graphicdesign, r/UI_Design, and r/motiongraphics, are devoted to graphic design. These subreddits are fantastic resources for finding ideas, picking up new skills, and getting feedback on your work.
You can find ideas for your work, discover new techniques, and get feedback on your designs on the r/graphicdesign subreddit.
You may learn about user interface design and gain comments on your UI designs on the r/UI Design subreddit.
You may learn about motion graphics design there and seek input on your creations in the r/motiongraphics subreddit.
In the r/designcrits subreddit, you may upload your designs and ask other designers for feedback.
You can upload your logo designs in the r/logodesign subreddit and receive comments from other designers.
Youtube
Using YouTube to improve your graphic design abilities entails many crucial tasks. First, decide on specific objectives for your channel, such as educational portfolio shows or community involvement. Subscribe to the best YouTube channels for a graphic designer with more than one million or 500k+.
Decide on your area of expertise within graphic design, such as UI/UX or logo design. Make sure your content delivers readers value by conducting research and planning it. Make compelling edits and high-quality videos with excellent equipment.
Create eye-catching titles and thumbnails that attract viewers. Share how-to guides, advice, and insights that handle typical design problems.
Collaborate with others and use keywords to increase visibility. Post consistently and promote videos on multiple platforms.
Analyze analytics to improve content strategy and be open to feedback and new ideas for continuous improvement.
Facebook groups
There are Facebook groups for specialized interests, like graphic design. By joining relevant groups, designers can connect with like-minded people who exchange resources, discuss design trends, and provide suggestions.
Since designers may openly exchange ideas and seek guidance, these groups create conditions that benefit learning and development.
Conclusion
Graphic designers can start a journey of innovation and constant progress by strategically using these platforms, ultimately taking their creative ability to new heights.
Related Topic