Best 3D Mockup builder sites for content creators
What is a Mockup?
A mockup refers to a life-size model that replicates the design of an app, web page, or device. It is employed to showcase a product for various purposes.
Mockups offer detailed insight into your product and can be extremely valuable during development.
They can provide a clear understanding of essential features, user interface, and layout, which in turn can aid with the refinement and optimization of the product.
What is a 3D Mockup?
A 3D Mockup is a three-dimensional representation of a proposed design created by computer software Computer-aided design (CAD).
It is often used to visualize and present product designs, packaging, branding, architecture, and other projects. 3D mockups are particularly useful for giving stakeholders a realistic preview of how a design or product will look in the real world before it is physically produced.
There are several mock-up builder websites based on the creator's specific needs and necessities; it can be helpful for creators who want to showcase their work professionally and visually appealingly. Some of them are mentioned below,
Placeit by Envato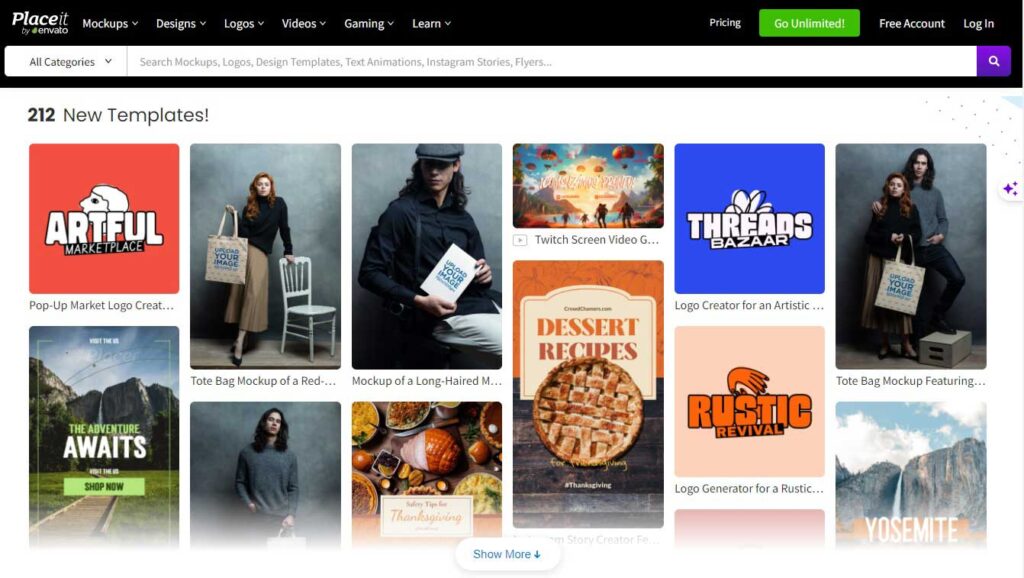 Placeit is part of the Envato market, which offers a variety of creative resources for designers and content creators. Placeit provides a wide range of 3D mockup templates, including mockups for T-shirts, apparel, digital devices, print materials, and more.
You can easily customize these mockups with your designs and logos. It is user-friendly and provides high-quality mockups.
Placeit offers a range of tools, including logo makers for clothing brands, templates for t-shirt designs, and banner makers to help you promote your creations.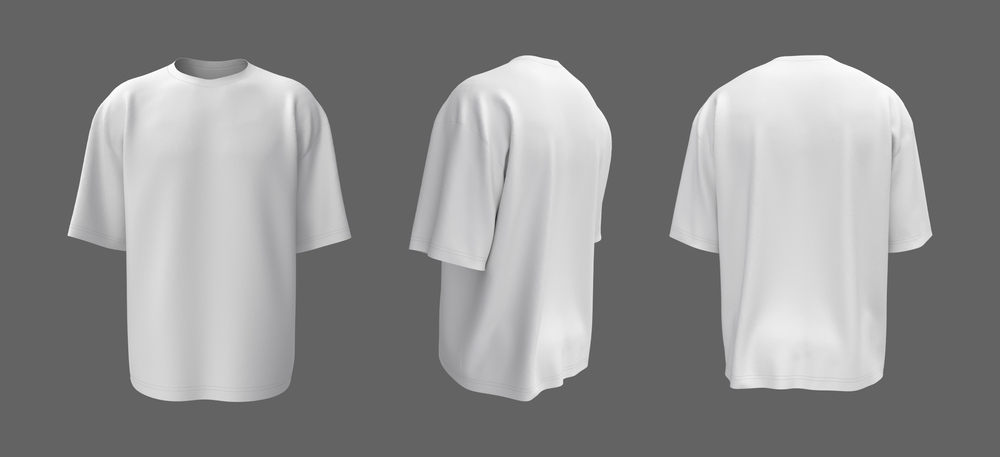 It is an amazing and beneficial tool for T-shirt designers, and it can help them gain more visitors to their profile, which can lead to sales. Here is one of the personal samples; you can find many features in Placeit by Envato here.
Mockup world
Mockup World is considered to be one of the best free websites. It offers high-quality and free 3D mockups. While it does not have its mockup generator, it curates a collection of high-quality mockups from around the web.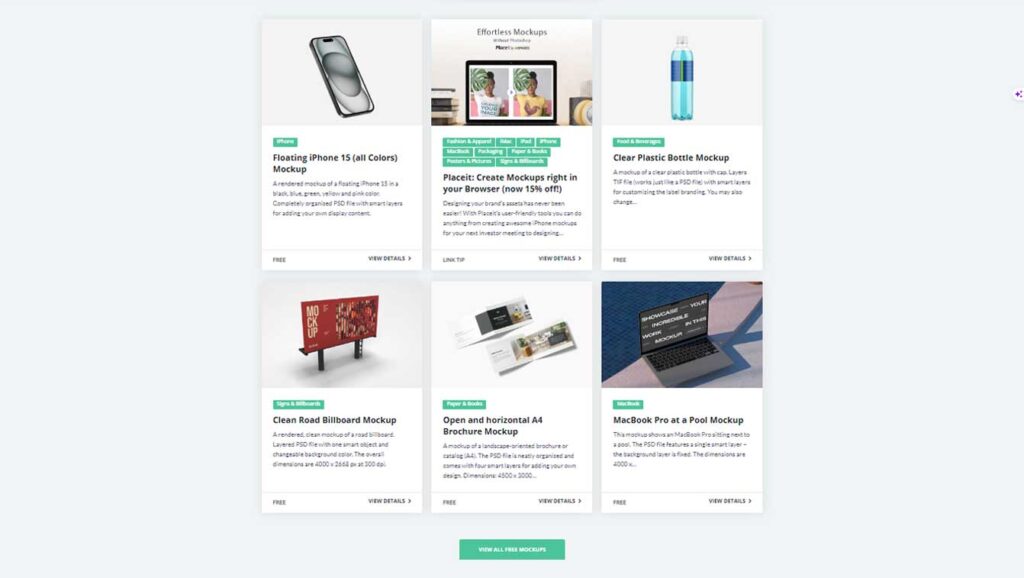 Mockup World covers various categories, including technology, apparel, packaging, and branding mockups. You can download these templates for use in your projects.
Rotato (Ony available on Mac)
The Rotato 3D mockup website is a free online tool offering users multiple options to create and generate designs in minutes. Rotato is user-friendly and helpful for those without experience in 3D.
It's a three-step process to create a 3D mockup. Upload your design, select the device from the library, and Rotato will automatically generate a 3D mockup. Rotato also allows users to customize their mockup by changing the lighting, camera angle, and other settings.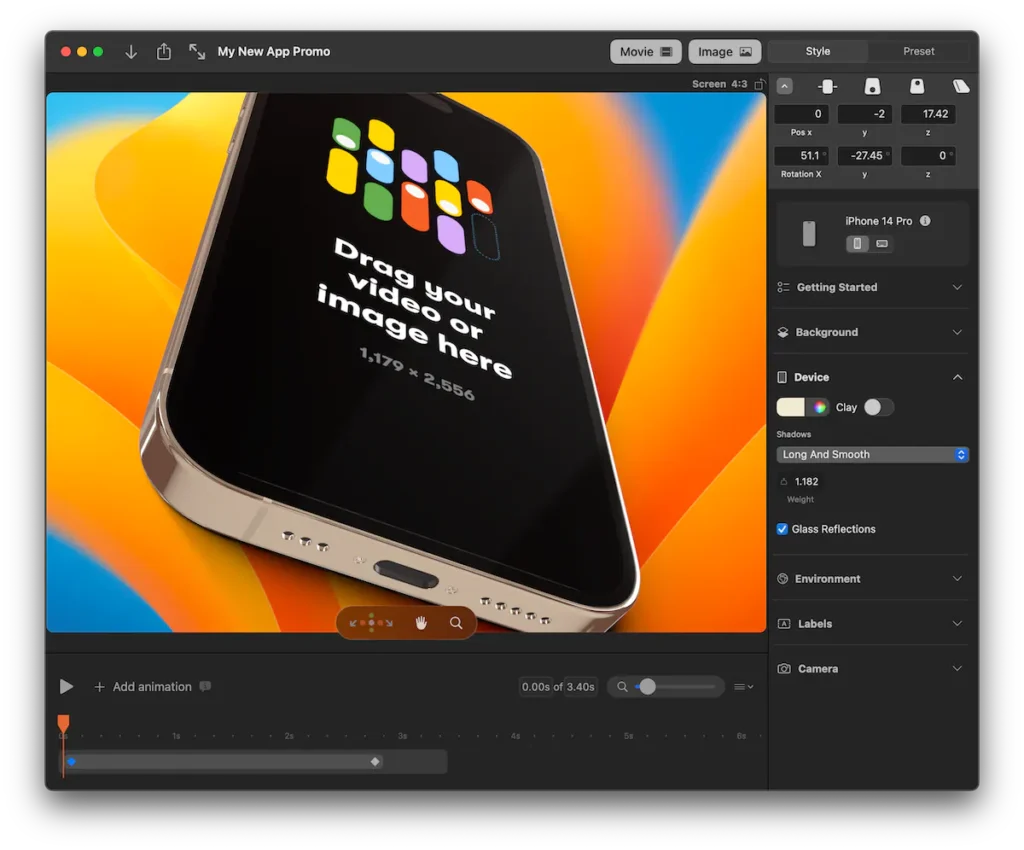 Once the mockup is complete, users can download it as a PNG or GIF image or export it as a video. Rotato also offers a paid Pro plan that gives users access to additional features, such as the ability to export mockups in high resolution and with custom branding.
After the mockup is finished, users can export it as a movie or download it as a PNG or GIF picture. In addition, Rotato has a premium Pro plan that costs money and unlocks additional features like exporting high-resolution mockups with customized branding.
VEED.IO
VEED.IO is the instant 3D mockup generator. Whether you are a seasoned designer, marketer, or content creator, VEED.IO allows you to create a visually appealing 3D mockup that makes your products stand out.
To generate images based on your text, enter a prompt into the text field and click "generate".
VEED, a free video editor, will then display images on your screen for you to browse and select based on your needs. Once you have selected your desired images, you can export them as a video or presentation.
VEED also allows you to add text, sound effects, subtitles, and more to your videos. With VEED, you can create mockups for books, tech gadgets, fashion items, packaging, and much more, all with stunning and realistic looks.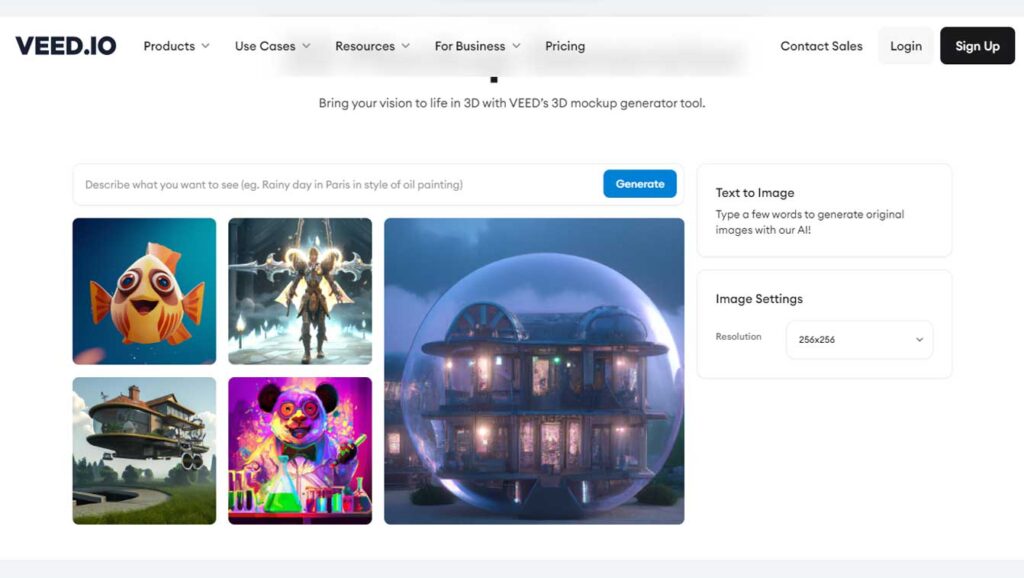 Using 3D mockups gives your presentations a sense of polish and professionalism. Moreover, you can include audio using an AI script generator.
VEED also offers a paid Pro plan that gives access to additional features, such as the ability to export mockups in high resolution and with custom branding.
Vectary
Vectary is a cloud-based 3D mockup platform allowing users to easily create, share, and publish dynamic 3D experiences online. This platform is popular among those needing to create realistic 3D models for their products quickly.
To create a 3D mockup, create a new project and import the model. Once you import the model, you can adjust the lighting, textures, and materials to give it a realistic look. You can also add annotations, interactions, and animations to your mockups.
You can then share your mockup with others by putting it on a website or social media.
With Vectary, you can create a 3D mockup for products such as smartphones, laptops, and packaging to show your customers exactly what your product will look like before they buy it.
And for website 3D mockups, to show your clients a final look before it is developed or to test different design designs.
Previewed 3D Device Animations
With the previewed 3D mockup app, you can quickly animate phones, iPhones, iPads, laptops, and tablets with just a few clicks.
You can choose your favorite template from the template library and start animating your device. Device Animations make your mockup stand out and grab users' attention.
It's the best choice for presenting your application to your users. Use cases to create such animation; first, browse pre-made templates.
Secondly, choose the device, whether it's an iPhone, iPad, MacBook, smartphone, or tablet, that you would like to use in the animation scene.
Thirdly, adjust checkpoints by customizing the device's motion, rotation, and positioning. Lastly, export your animated mockup by choosing between mp4 and webm.
You can also export the mockup as a PNG sequence to support transparency.
Mockrocket
Create jaw-dropping 3D device mockups and product promo videos in your web browser. Grab your audience's attention by creating a 3D device animation that looks professionally realistic.
Adjust colors, lighting, shadows, and more by using the most straightforward 3D video tool you have ever used is guaranteed. In minutes, you will have a video that seems to come from a top-tier video studio.
With Mockrocket, you can make pitch decks, portfolio graphics, App Store previews, and many more. No complex editing tools or prior experience is required. Export images and videos up to 4K in your browser.
Adobe Illustrator Mockup Tool (October-2023, Release)
Yes, you read it right, Adobe has recently introduced a new tool called "Mockup" in Illustrator. This tool will allow you to build mockups within Illustrator itself, without the need for any third-party tools or software. However, it is important to note that this does not necessarily imply that Photoshop is no longer required for mockups.
Adobe's mockup tool offers a comprehensive selection of customizable templates, categorized into four distinct areas to streamline the design process and facilitate effective visual communication.
Apparel
Branding Devices
Digital Devices
Packaging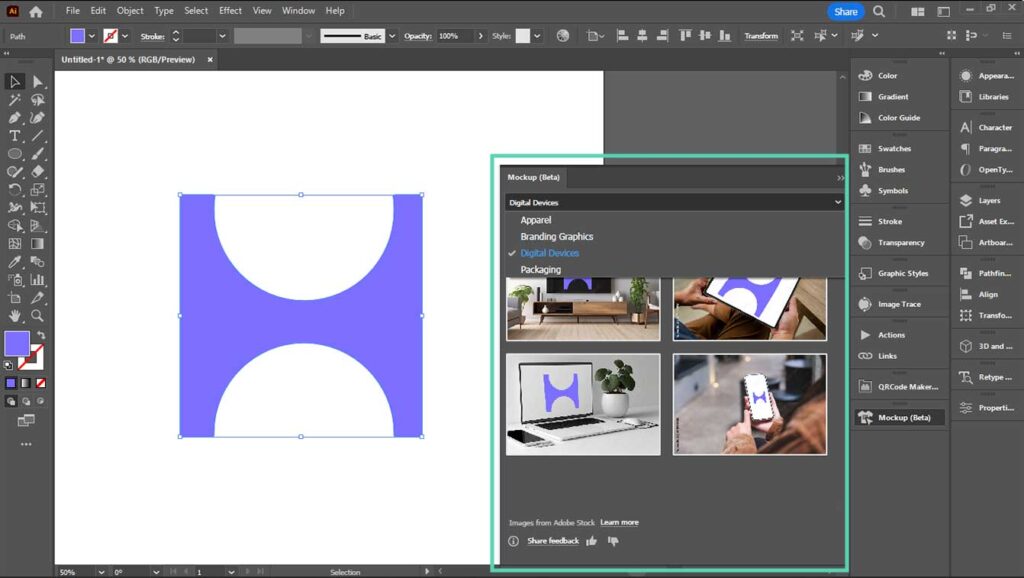 Adobe Illustrator 2024 introduced a new feature called the Mockup tool, which allows users to create high-fidelity mockups of their designs.
The tool was released in Beta version in October 2024. With the Mockup tool, designers can easily visualize their designs in a real-world context, making it easier to communicate their ideas with clients and stakeholders.
The tool is expected to revolutionize the way designers work, as it provides an efficient and effective way to create professional-looking mockups in a matter of minutes.
Importance of 3D Mockup Builder sites for Content creators
3D mockup builder sites play an essential role for content creators because, by using 3D mockup sites, they can better present their content by giving their products a new look by presenting a model of a product from different angles, giving realistic lighting and textures to provide a better idea of the appearance of the finished project.
3D mockup builder sites allow creators to showcase their work in seconds by creating high-quality images and videos without wasting time and money on creating the physical products themselves. This can be essential for those starting up their business or with a low budget.
Here are some examples of how content creators can use 3D mockup builder sites:
A graphic designer can use a mockup site to create a mockup of their design on a t-shirt, mug, or other product.
A web designer can use a mockup site to create a mockup of their website design on a desktop computer, laptop, or mobile device.
A product designer can use a mockup site to create a mockup of their product design in different colors, materials, and finishes.
A photographer can use a mockup site to create a mockup of their photo in a frame, album, or on a website.
A video editor can use a mockup site to create a mockup of their video on a TV screen, mobile device, or computer monitor.