Free Templates Sites for Illustrator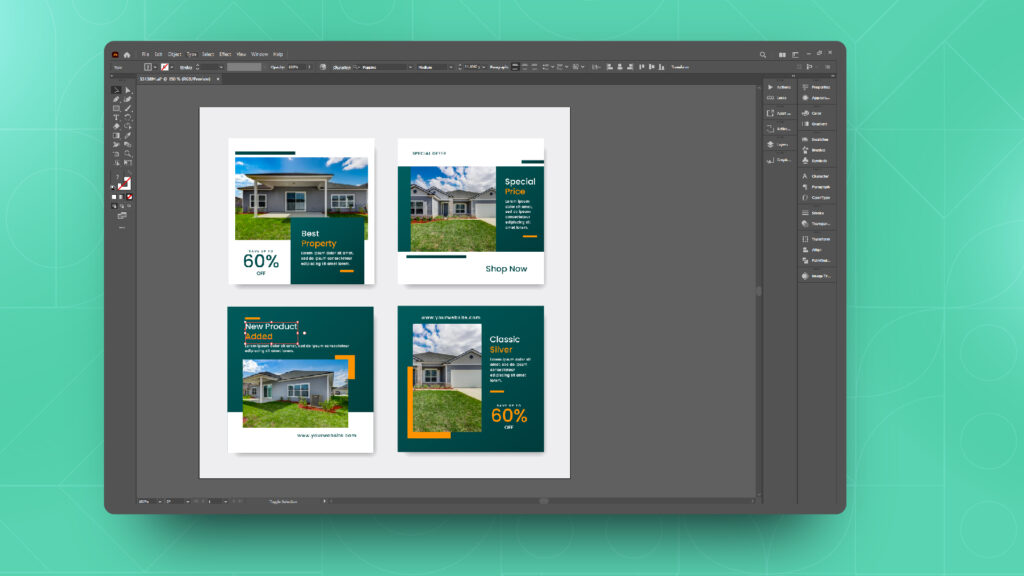 Adobe Illustrator is the ideal application for any graphic design job, whether a small symbol or a large billboard. However, making these items from scratch requires both time and expertise.
This is where templates may help. Illustrator templates make your design assignments easier to complete. Download one, make as many or as few changes as you need, and you're done. In a fraction of the time, you've created a professional-looking product!
Vecteezy
FreePik
Pixeden
Portal Vector
Dryicons
Freedesignfile
Flaticon
Template.net
Graphicmama.com
Dribbble
Portal Vector
Undraw
Vector4free
Sit back
Outlane.co
Nounproject.com
IRA Design
Freebie Supply
Humaaans
Stockio
BluGraphics
Amber design
Pixabay (only support SVG)
Openclipart
Ouch by icon8
Handz
Glaze
Vecteezy
Vecteezy is the ideal place to start when you need an Adobe Illustrator template. It has approximately 300 free download pages, accessible under either the Standard license, which demands credit, or the Creative Commons license, which does not. Many more premium options exist if you still can't locate the appropriate one.
That is, however, doubtful. Vecteezy's templates range from banners to business cards, T-shirts to brochures. You may even create your "Keep Calm and Carry On" poster. Vecteezy also has an online vector graphics editor so that you can change your files in your browser.
FreePik
FreePik is quite popular. It offers almost a quarter-million free Adobe Illustrator templates for download. Nearly half are part of the FreePik Selection collection of exclusive designs you won't find on any other template site.
So, what exactly can you discover here? The basic answer is almost anything. There are the usual suspects, such as posters, pamphlets, and banners. There are, however, certificates, wedding invites, and marketing brochures.
Pixeden
Pixeden may be beneficial if you use Photoshop or Illustrator because it provides PSD and Al files. Mockups, business cards, backdrops, text effects, textures, mobile app UI, and more are available for download.
The only drawback is that you must first make an account on this website. You will be unable to download any files from Pixeden unless you do so. The dashboard layout is the nicest thing you can get from this website.
Portal Vector
This website has a vast selection of free Adobe Illustrator templates that you may download and use for any purpose. However, the website states that while credit would be nice, it is not essential. The nicest part about this website is that no account is required.
On the other hand, it provides a massive list of categories from which you may select the required vector for your task. In addition to the templates, you may get brushes, shapes, and other Adobe Illustrator add-ons.
Dryicons
DryIcons, as the name suggests, is a website where you may get free icons in any theme or style. But wait, there's more. It also has a large selection of high-quality vector templates, which is especially handy for flyers, posters, and infographics. The templates were created by the DryIcons team and can be used in commercial applications with proper acknowledgment.
Freedesignfile
Freedesignfile is the go-to site for finding free vector files online. It includes vectors, graphics, typefaces, and Photoshop tips.
It may contain only some files, but you can discover the most suitable vector file. The quality of the vector file isn't fantastic with Freedesignfile, but there are lots of other free choices to select from. There is no online editor to save you time designing.
Flaticon
Flaticon's Vault has a collection of millions of free icons. It allows you to design your own pattern style using the supplied icons. Flaticon has every form of vector file imaginable. Downloadable formats include PNG, SVG, EPS, PSD, and BASE 64. The free social network icons available in a range of styles are the most popular item on Flaticon.
Template.net
Template.net is now one of the most rapidly growing communities. The widespread use of vector graphics will astound you. Finding your preferred artwork is easy here, whether it's infographic elements or vector templates. Images are so well structured that you will never have trouble finding them even once.
Graphicmama.com
Animated graphics have been used on the website. It's a massive collection of vector drawings of all characters in various poses and settings. Every day, thousands of people come to the site for a variety of reasons, resulting in a high volume of traffic.
GraphicMama began as an elaborate side project of 2create Studio, an IT firm located near the coast in Varna, Bulgaria.
Dribbble
Sometimes the simplest solution is the best. Dribbble is a website that features simple and charming vector graphics. This area may be used to create stunning vector decorations for your website.
Users will have unrestricted access to use, edit, distribute, and alter vectors for business reasons. But don't try to claim or sell them as your own.
The availability of editable Illustrator templates on Dribbble cannot be guaranteed. There is approximately a 50% chance of finding templates if the owner has provided a link that grants access to Illustrator or other editable templates.
Portal Vector
Vector Stock is a reputable website that offers over 220,000 royalty-free vector pictures, art, clipart, drawings, and other high-resolution visuals. It is one of the most prominent vector-only picture websites, allowing you to search for your required vector elements easily. With its free plan, you may acquire access to all of its free photos, including 397,786 vector images.
Undraw
unDraw is a big collection of open-source vector graphics that you can use to build stunning websites, products, and mobile apps. If you go to the website, you can keep scrolling until you discover what you're looking for. The unlimited scrolling feature is fantastic.
Furthermore, before examining these vector images, you may select a theme color at the top so that all of the results match your business identity.
Vector4free
Vector4Free offers hundreds of royalty-free vector graphics and clipart pictures suitable for online logos, backgrounds, layouts, and banner design. You may find your preferred elements in categories such as Design, Background, Icon, and others. Some of these photographs are free to download, while others require permission.
Sit back
SitBack has one product, but it's a fascinating one. It's an AdWords Illustrator template. You receive a single file containing blank grids for all accessible ad sizes, updated when new ones are introduced. Paste in your text and photos, and you're done.
Outlane.co
This website contains adorable vector graphics for every project. They may be used in both business and personal ventures. You may even change the illustrations because they are accessible in PNG and SVG formats.
Nounproject.com
The Noun Project offers icons and graphics for every project category. With over 2 million icons, you'll likely discover an illustration that fits your demands, so visit this site.
IRA Design
You may use IRA Design to build customized illustrations using pre-built components. Each component contains five distinct gradient styles that may be downloaded as SVG, AI, or PNG files.
To be clear, you must first download the files to your computer before you may modify them. There is a Download option in the top navigation bar. You may then choose if you want SVG, PNG, or ALL files.
Freebie Supply
If you use Sketch or Figma in your everyday workflow, tens of thousands of free resources are available, including illustrations.
Freebie Supply is one website that aggregates similar resources into a single directory. The screenshot above shows over 300 pages of free content for Sketch. In terms of licensing, you'll have to look into it on your own. But, in terms of the availability of free designs, it's incredible!
Humaaans
Humaaans is concerned with the human side of design. Humaaans, as an illustration, and resource, highlights the human connection to design. These amazingly inventive artworks will function well in any design project requiring emotion and vibrancy. It's perfect for icon placements as well as full-fledged hero sections.
Stockio
Stockio is another site where you can get free project vectors. You may utilize this website to discover a well-fitting template, whether you want to use it on your YouTube video or print it for physical use.
Magazine covers, dashboard ideas, icons, social network cover photos, and more items are available. The nicest part about this website is that you do not need to establish an account in order to get any vectors from it.
BluGraphics
It's a carefully picked collection of design elements, including some fantastic Illustrator templates. Resumes, brochures, infographics, and restaurant menus may be found here. Although there is less variety than you would find elsewhere, the quality could be better.
Some content requires free registration to download, while the remainder may be accessed on third-party websites. Of course, Illustrator is not ideal for page layouts, such as that required for a résumé or menu. Adobe InDesign is a far superior solution.
Amber design
If you work for yourself or conduct freelance work, you will need to spend time each month submitting invoices to your clients. There are several approaches to this. You may create anything in Word or download billing software.
Alternatively, AmberDesign offers a free invoice template for Illustrator. There are four styles to choose from, all of which are attractive and professional. They require little alteration; insert your logo, fill in the blanks, and export your Illustrator file. PDF.
Pixabay (only support SVG)
Pixabay is a major illustration search engine containing over 2 million copyright and royalty-free vector pictures. The website hosts photographs from hundreds of websites, resulting in a wide range of stock images and drawings.
The website's user interface is simple; you may search for anything using keywords. Pixabay stock pictures are free and available for commercial usage. This reduces the usual licensing and purchase hassles associated with presenting your material to a lovely, healthy zero.
Pixabay's never-ending library of vector pictures varies greatly in style and tone, so whether you're trying to liven up some charts for a business presentation, create icons for your website, or generate charming videos for your brand's Instagram story, Pixabay has the solution!
Openclipart
Openclipart is a treasure trove of up to 160,000 free clipart images. There is something for everyone among the illustrations provided, which come in a range of styles and aesthetics. All of the clipart on Openclipart is free to use. Because clipart is in the public domain, illustrators who use it do not have to worry about copyright concerns.
Furthermore, the designs on Openclipart are unique, original works developed by Openclipart's huge community of artists. Openclipart illustrations have a realistic appearance and will work well if you need something more complicated than plain icons.
Ouch by icon8
Icons8's Ouch offers captivating pictures in 20 art styles, ranging from flat and geometric drawings to textured graphics and whimsical vectors. The illustrations are organized into many categories, such as Technologies, E-commerce, Finance, and Medicine, and prominent UX states, such as Success, Message Sent, Sign up, Subscribe, and so on.
PNG graphics for usage in mobile and web interfaces are included in the free download. By purchasing their membership, you will have access to vector SVG files and will not be required to link back.
Handz
Handz is a CC0-licensed collection of 3D images featuring various hand movements. You receive over 320 distinct hand combinations in 8 skin colors, 3 sleeves, and 12 movements.
PNG renderings for use in any designer software, such as Photoshop, Sketch, Figma, Studio, or Illustrator, as well as Sketch files and original Blender files (blend), are included. Free to use in business projects, including applications, websites, social media posts, newsletters, and more.
Glaze
Glaze has a free illustration collection divided into people, backgrounds, places, and technology categories. The download contains free PNG files that may be used with credit and the opportunity to purchase the source AI file.
Conclusion:
These websites provide a valuable resource for illustrators and designers looking for free templates to enhance their projects. Whether you need vector illustrations, icons, or PSD files, these sites offer diverse options. Review each template's licensing terms and credit the original creators when required.
Recent Topics