---
Adobe
Creative Cloud

Photoshop

Raster or non-vector image editor Adobe Photoshop was designed by Adobe Inc, also called Adobe Systems Incorporated. Adobe is an American-based multinational software company incorporated in Delaware, California. It works on both Mac and windows.

A non-Vector Image editor doesn't mean vectors don't work on Photoshop, but it's best for raster images. It also allows us to create vector artwork on photoshop and all other digital artwork, including raster, vector, 3D, 2D Animation, and Video.
Adobe
Creative

Suite

You might have worked on the CS6 version of Photoshop or at least heard about this version. It was the last Adobe-designed tool. Adobe Creative Suite (CS) is a Discontinued software and is now replaced by Adobe Creative Cloud (CC), and all their subscription packages are available on Creative Cloud.

Adobe Creative suite came up with different editions. The first two versions, CS and CS2, include two editions, Standard and Premium. Further, it came up with different editions Standard, Design and Web Premium, Production Premium, and Master Collection. All Adobe software was categorically distributed in all these editions.
Features of
Adobe

Photoshop
Available on multiple devices: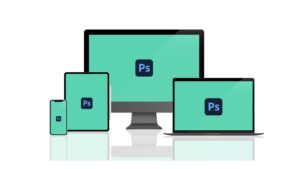 There are multiple digital devices; not everyone uses the same device to perform their work. Some people use personal computers and laptops with different operating systems, and others would like to work on Smart phones or iPad. Keeping this idea that each user loves to work on different devices, Photoshop is designed for different devices so that every user can use Photoshop for Editing, Retouching, and other artistic compositions.
File Formats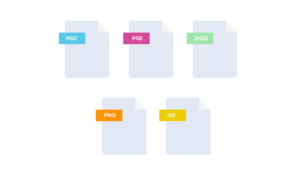 Photoshop supports a variety of file formats. Default photoshop editable file extension is PSD which is known as Photoshop Document. It stores all the settings and adjustments made to an image, including layer, layer and clipping mask, adjustments, text, duotone, alpha channel, transparency, paths, etc. it keeps all changes next you open a PSD file in photoshop.
Another Editable file that comes with Adobe Photoshop is PSB, or Photoshop Big, sometimes called Photoshop large. It can support more than 2 Giga Bytes of data to store in one photoshop file; however, PSD doesn't. Photoshop Big (PSB) can manipulate more than 30,000 pixels of an image in each dimension. This file extension is mostly used for Billboards because it covers large dimensions.
An Editable PSD file can be exported for other Adobe products such as Illustrator, Premiere Pro, and Aftereffects. We can also save Illustrator and Lightroom files into PSD to edit in Photoshop.
The most widely used file extensions in photoshop are Jpeg, Png, and Gif. These are raster image files that we use in different circumstances. Photoshop also compresses image files into a jpeg. Graphical Interchange Format (Gif) is used for 2d animated artwork and is also supported by Adobe photoshop; you can use it on Photoshop timeline.
One most common file format that photoshop doesn't support is Portable Document Format-PDF.
Masking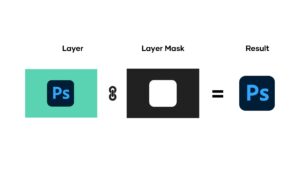 Layer masking is a non-destructive method for hiding portions of an image or layer without erasing them. Making image composites, changing background colors, deleting objects, and focusing your modifications only affect certain areas instead of the entire layer.
Why is this process known as the Non-Destructive Method? Masking only removes the unwanted area from the image, which you may then reveal at any time. It has no impact on the image's original pixels.
Neural Filters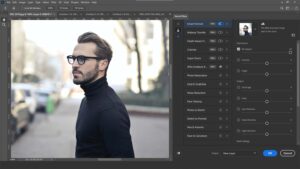 The amazing Artificial Intelligence Based Adobe introduces the Neural Filters feature in Photoshop Creative Cloud version 2021. People took hours to complete their tasks now, it just takes one click or less than a minute to perform the same task. Photoshop uses machine learning that will automatically fix the perspective of the image. Using features provided by machine learning, we can also produce content-aware suggestions.
With the support of Neural Filters, users can rapidly experiment with non-destructive filters and develop unique ideas. Neural filters allow you to enhance your images by adding new situational pixels that weren't actually in the original photograph.
Its Machine learning enables you to smoothen your images and remove blemishes and other spots on your face with just one slider. It converts Pixelated images or Compressed JPEGs to an enhanced image. Quickly converts any image to black & white and black & white into a Saturated Image.
The landscape mixer helps you merge any two landscapes and change the current season to another by selecting the reference image.
Stunning colors pour seamlessly from one image to the next in just a few seconds. Apply the color scheme from any reference image onto the photo of your choice by using Color Transfer. Play around with the countless reference photo possibilities, try out different color moods, and give old pictures a fresh look.
Remove
Background

in Seconds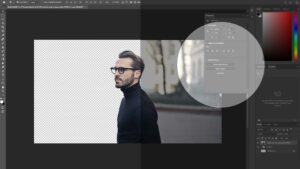 You might have used remove.bg once in your life, which quickly removes background in just a few seconds. Adobe has integrated this module into photoshop; now you can easily remove background non-destructively without going anywhere.
To quickly remove the background in Photoshop, open the properties panel on the right side; if you can't find it, go to Windows in the menu bar and click on Properties.
Select the image you want to remove background; make sure the selected image is not a smart object; if it is, then right-click on the image on the layer panel and convert it to Rasterize layer. You can easily remove the background by clicking on the properties panel and Remove Background underneath Quick Actions.
Select Image (Remove background don't work on smart object)
Choose windows > properties panel
Under Properties panel Remove Background
Sky Replacement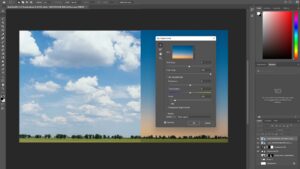 The Sky Replacement is another artificial intelligence-powered Adobe Sensei tool that replaces the sky in your original image with a new one. It has its own list of the different skies that you can replace with, or you can upload an image from your device to replace it with the current sky of the selected image.
To replace the sky in Photoshop
Click on Edit (Menu Bar) > Sky Replacement
Remove
Object

from Photograph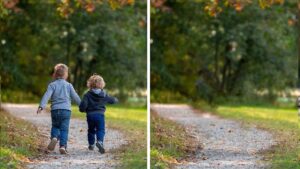 The Content-Aware Fill searches for the best elements in your image to use in place of the undesired object. Again, credit goes to artificial intelligence-powered Adobe Sensei for creating the Content-Aware Fill tool. You just need to make a precise selection of an unwanted object in your photo and expand the selection a little bit from the edges of the object.
Content-Aware Fill tool automatically fills the selection by the surrounding pixel. Sometimes we have to perform some manual editing to make the image appear authentic.
To expand the selection
Go to Selection (Menu bar) > Modify
Modify > Expand
To ensure that every single pixel of the object is included in the selection, choose the number of surrounding pixels you wish to add.